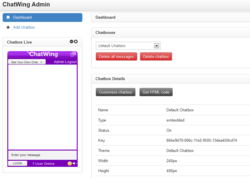 Tucson, AZ (PRWEB) October 31, 2012
Users like customization in almost every app known in the Internet. This is based on collective feedbacks and suggestions given by thousands of users. Many applications offer wide customization options, but only few of them satisfy users. The Chatwing Development Team has recently launched a chat widget geared to provide a high rate of admin access to any user. With such options, users can now install and tweak the shoutbox with high efficiency.
A Chatwing user can monitor the conversations happening in the free chat box. This ensures that visitors will take peaceful approaches when it comes to communication. If, at any rate, there are obscene members, the admin can ban them right away and delete their messages in the shoutbox—as if nothing really happened. In banning members, the admin can add a specific message that states the reason of shoutbox ban. The admin can also set the approximated time length of the penalty.
If used in a team blog or website, Chatwing's free chatbox allows unlimited numbers of moderators. In this way, multiple admins can monitor the shoutbox effectively. The Chatwing chat app can also undertake multiple designs because users can edit the colors and sizes independently. They can even add a background image or select from Chatwing's image collection. Simply put, choices and possibilities are endless in the Chatwing chat app.
In the coming months, the Chatwing Dev Team will create more options so that the free chat widget will become more efficient and can handle more users. Recently, Chatwing's developers are introducing the Chatwing shoutbox in forums and other niche communities.
About Chatwing.com
Chatwing.com specializes in the new field of website chat. Over years, the Chatwing team has introduced live chat box for hundreds and thousands of blogs. The Chatwing application bridges people from many parts of the world, creating global synergy through the Internet. The shout box can be installed in just seconds, and it can be used for varying purposes such as leisure and Internet marketing. It also allows a user to customize the size, color, and name of the widget. Chatwing is 100% free for everyone.