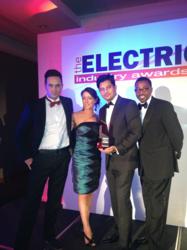 recognition from the Electrical Times judging panel follows SAVORTEX becoming the first-ever hand dryer to achieve a Guinness World Records title .The Vortex 550 EcoSmart is officially recognised by Guinness World Records for its energy efficiency
(PRWEB UK) 30 October 2012
Rodney Jack, editor of Electrical Times said, "This year's Electrical Industry Awards has proved that the quality of the electrical industry remains incredibly high. We are thrilled to recognise such a wide range of talent". The presentation of the winners took place on the 25th October at the Royal Garden Hotel, Kensington London and marked the 20th anniversary of the Awards. The Judges commended the winners for their innovation, ingenuity and important contributions to the success of the electrical industry.
SAVORTEX are a new and exciting British manufacturing company clearly making inroads into £3.64bn* electrical wholesaling market with an award winning hand dryer. Simply from swapping out paper towels and high wattage old fashioned hand dryers can make a huge impact for energy conscious facilities managers. SAVORTEX's strategy is to lead business sustainability through innovation and the development of revolutionary products.
It has been an Olympic summer for awards and world records and the recognition from the Electrical Times judging panel follows SAVORTEX becoming the first-ever hand dryer to achieve a Guinness World Records title .The Vortex 550 EcoSmart is officially recognised by Guinness World Records for its energy efficiency as well.
The world record, Most hands dried using 30kJ of energy, was devised by Guinness World Records officials as a challenge to measure the energy efficiency in hand drying. EcoSmart successfully dried four pairs of hands using less than 30kJ of energy. Typically, hand dryers use between 72kJ and 96kJ of power to dry just one pair of hands. SAVORTEX successfully achieved four pairs of dry hands using just 24kJ of energy – smashing the minimums set by Guinness World Records officials and claiming the world record.
SAVORTEX, improving washroom sustainability.
Electrical Times Awards 2012 http://www.electricaltimes.co.uk

About SAVORTEX
Find us at http://www.savortex.com and follow us @Savortexuk
SAVORTEX Ltd, One Canada Square, 29th Floor, Canary Wharf, London E14 6DYT:+44 (0)207 956 8840