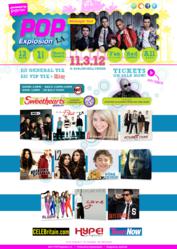 The POP experience will allow fans to meet their favorite band members and performers....
Los Angeles, CA (PRWEB) October 30, 2012
Oct 30, 2012 - POP Explosion L.A is one of the most exciting events for POP music fans hosted by Stephen Glickman who plays talent manager Gustavo on the hit Nickelodeon show Big Time Rush. More than 13 acts on 1 show!! There will be a Fan Meet & Greet, a Vendor Village, Celebrity Red Carpet and more.
WHERE: Avalon Hollywood, 1735 Vine Street, Hollywood, CA 90028
WHEN: November 3, 2012 - 2:30 p.m. – 7:00 p.m.
TICKETS: Ticket on sale now, http://www.brownpapertickets.com/event/282134
VIP Tickets are sold out.
Hollywood, CA -- For the first time, HYPE! projects have partnered with POPCHIPS and Sweethearts Jewelry, to create an amazing concert experience to see 13 of the fastest rising Boy Bands and Hottest Pop Stars perform as well as meet the top teen celebrities, POP EXPLOSION L.A. The list of performers are:
Midnight Red
Blush
Perez Hilton artist IM5
The Real P Sanders
Downtown Drive
Ryan Ochoa
Lia Marie Johnson
Brandon and Savannah
L2
Skye Stevens
Dylan Hyde
1 Rebel Nation
The POP experience will allow fans to meet their favorite band members and performers as well as more than 100 celebrities that will be in attendance. List of celebrities is growing each day.
The POP Explosion L.A experience will begin at 2:30 p.m. on November 3, 2012 where there will be a vendor village, celebrity red carpet, and meet & greets. At 4:00 p.m. the 15 acts will come to the stage 1 by 1 and perform. For those VIP ticket holders, there will be a Midnight Red after party.
About HYPE! projects-Is an Entertainment Management and Marketing Company headed by CEO Paris D'Jon. The company specializes in entertainment brand marketing by matching some of today's hottest celebrities and brands with today's top events and opportunity's.
About popchips-popchips is a brand of potato chip that are cooked using high pressure instead of being fried or baked, and are claimed to contain less than half the fat of conventional fried potato chips. The company is rated by Forbes as among America's top 20 most promising companies in 2011. Forbes also reports that investors in the company include celebrities Ashton Kutcher, David Ortiz, Jillian Michaels, Katy Perry and Sean Combs.
About Stephen Kramer Glickman stars as Gustavo Rocque on the Nickelodeon Mega-Hit "Big Time Rush" which is currently in its fourth season.
Glickman has always starred on Last Comic Standing on NBC, Cupcake Wars on the Food Network and recently appeared on the Real Housewives of Beverly Hills. Glickman has also produced TV and films for Comedy Central Digital, Lionsgate, Silver Nitrate and 20th Century Fox.
Executive Producers: Paris Djon & Steve Stein
###