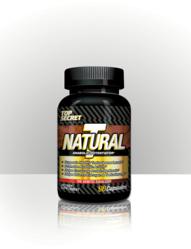 A natural way for a man's body to increase the production of testosterone
Miramar, FL (PRWEB) October 31, 2012
Top Secret Nutrition announced the release of its supplement Natural-T™ to the press at the end of July, 2012. The supplement has enjoyed great success and experienced rapid sales growth in just three months.
Top Secret Nutrition conducted a preliminary study to test the effectiveness of Natural-T™. The results of the two-month long study were just received and they were even better than expected. Those who took Natural-T™ for a period of two months experienced an increase in testosterone levels as high as 179% with an average increase of 70%. These encouraging results have driven Top Secret Nutrition to commission a clinical study to further support the claims of the benefits that are so obvious to anyone who takes Natural-T™.
Natural-T™ is not a pro-hormone. It is a supplement that provides the body with the needed "fuel" to naturally produce more testosterone. Natural-T™ supports healthy total and free testosterone levels. It also helps maintain a healthy balance between estrogen and testosterone and helps encourage protein synthesis.
Those who take Natural-T™ should experience lean muscle growth, reduction in fat, higher levels of strength and performance, increased libido, and an overall feeling of well-being. These benefits reflect how important it is for a man to achieve acceptable or even better "optimal" testosterone levels.
"We wanted to create a clean and high-quality supplement to stimulate a man's body to naturally stimulate the production of total and free testosterone, and we fully accomplished it," said Tom Richardson, Top Secret Nutrition's CEO.
Additional information about Natural-T™ and other Top Secret Nutrition supplements is available at http://www.topsecretnutrition.com.
About Top Secret Nutrition:
Top Secret Nutrition is a developer and marketer of high-quality nutritional supplements with the purpose of "Fueling Active Life Styles 24/7" and is considered a leader in sports nutrition, general heath and weight management supplementation. The company currently has over 40 products spanning across the three supplementation segments. These products are widely available in the United States and increasingly available in international markets.
Top Secret Nutrition is based in Miramar, Florida. All of its products are manufactured in the United States using Good Manufacturer Practices (GMP) certified labs. For more information or to schedule an interview, please contact Tom Richardson at (954) 496-9600 or tom(at)topsecretnutrition(dot)com.