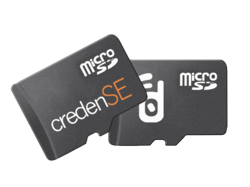 CredenSE delivers a robust secure application platform for NFC smartphones, non NFC smartphones and feature phones and offers true portability between NFC and non-NFC phones, something that was never before possible
Richardson, TX (PRWEB) October 30, 2012
DeviceFidelity Inc., global leader in plug and play NFC products, announced today the CredenSE product line of microSD devices, bringing to market a breakthrough in performance and flexibility. CredenSE is the world's first commercial NFC product with on board active signal amplification chip, industry leading Secure Element and miniature antenna, making it the only Secure Element microSD that can host mobile wallet applications on both NFC and non-NFC phones.
On smartphones, such as Samsung Galaxy S3, Sony Xperia Ion, HTC Desire C, LG Optimus 4X HD, Motorola Razr M and other models that are factory equipped with NFC, CredenSE offers mobile wallet, tag reading and Peer 2 Peer applications with secure credentials hosted on the microSD instead of requiring an upgrade to a special SIM card.
On non-NFC smartphones such as HTC One V, and feature phones, CredenSE is an ideal mass-market platform for deploying NFC based secure mobile applications. The onboard amplification chip in CredenSE eliminates the need for any external device dependent Range Extenders, thereby making distribution simpler and more effective.
CredenSE also works with the DeviceFidelity patented iCaisse to bring NFC enabled mobile wallet applications to all iPhone models.
"CredenSE is a technological breakthrough that we are excited to make available to the market and add to our portfolio," said Fabrice Jogand-Coulomb, VP of Products at DeviceFidelity. "Unlike solutions restricted to NFC smartphones only, CredenSE delivers a robust secure application platform for NFC smartphones, non NFC smartphones and feature phones and offers true portability between NFC and non-NFC phones, something that was never before possible. For Mobile Network Operators, financial institutions and Over the Top Wallet application providers, this maximizes their benefits as they can now deploy NFC solutions that can attract their entire customer base while maintaining the freedom for the end users to choose their preferred phone model and services".
All DeviceFidelity customers deploying their solutions on In2Pay and iCaisse product lines can easily upgrade to CredenSE, as it is fully compatible with existing multiplatform APIs that offer seamless access to NFC, secure element, TSM interoperability and mobile wallet functions.
CredenSE product line offers a wide choice of user memory up to 16GB with a variety of onboard Secure Elements that are compatible with industry standards such as EMV, Global Platform, ISO 14443 and Java Card.
The flagship of the product line, CredenSE 2.10, features a powerful Secure Element that can not only support payment applications from VISA, MasterCard, American Express, Discover and China UnionPay but also features support for MiFare, DesFire and HID's MultiClass SEOS solution. CredenSE 2.10 delivers a robust platform of choice for a complete range of payment, transit and access control solutions.
Watch CredenSE in action "video link"
Mobile Network Operators deploying NFC Wallet solutions can issue and control CredenSE just like their NFC SIM cards and enjoy the added benefit of retaining the service if the consumer selects to switch to a non-NFC phone such as the iPhone 5.
Financial Institutions, who today have to depend on third parties to deploy their mobile payment services on NFC phones, can now deploy these services within their control by issuing CredenSE to their consumers.
CredenSE can be retailed as a device agnostic microSD memory card allowing Merchant and Wallet Developers to bypass the SIM card control chain and extend their offerings to all NFC and non-NFC phones without compromising performance or security.
CredenSE microSD supports all forms of issuance and life cycle management, from central office secure issuance to on-site instant issuance and Over the Air personalization via TSMs (Trusted Service Manager).
CredenSE is based on DeviceFidelity's patents for pluggable NFC secure elements, with 20 such patents granted in US, UK, France, Germany, China, Turkey and over 70 others pending globally.
DeviceFidelity will be showcasing the CredenSE platform at Cartes, Paris. Please come visit us at booth 4N-024 or find out more at http://www.devicefidelity.com
About DeviceFidelity
DeviceFidelity, Inc. develops plug-and-play technologies that empower a variety of institutions to deploy their services and applications on millions of mobile phones worldwide. Its patented CredenSE, In2Pay® and iCaisse solution transform popular mobile phones into interactive contactless transaction devices. Committed to bringing contactless innovation to the mobile phone, the company launched moneto, the world's first multi-platform mobile wallet in the US. DeviceFidelity is a private corporation with headquarters in Richardson (Texas) and offices in San Mateo (California), London (United Kingdom) and Aix-En-Provence (France). For more information visit http://www.devicefidelity.com, follow us on Twitter @devicefidelity and at facebook.com/DeviceFidelity.