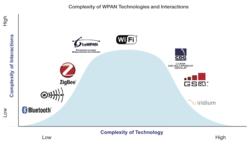 Harbor's analysis strongly indicates that Internet Protocol (IP) is becoming the dominant most viable choice to link all IoT network types, including WPAN applications
Boulder, Colorado (PRWEB) October 31, 2012
Harbor's Report "Wireless Personal Area Networks" examines the technologies, standards, applications, players and anticipated market growth for Wireless Personal Areas Networks (WPAN). Harbor's report analyzes the competitive landscape as well as the conflicts between and amongst the many proposed standards in this segment of the Internet of Things (IoT). The report also addresses the diverse challenges users, product OEMs and silicon players are facing.
The WPAN market is rapidly approaching a tipping point where the many competing technology standards for wireless short-range networks are either going to converge or continue to be conflicted. Given this environment, Harbor predicts the Compound Annual Growth Rate (CAGR) could range anywhere from 55% to 130% over the 2012-2016 time frame. Excluding consumer short-range standards such as ZigBee RF4CE for remote controls and Bluetooth audio, this could amount to a market differential of as few as 300 million WPAN connections in 2016 or as many as over 2 billion connections.
"Some things that look easy turn out to be hard. That's part of the strange saga of WPAN and the Wireless Sensor Network (WSN) arena and it's perpetual attempts to get itself off the ground. But some things that should be kept simple are allowed to get unnecessarily complex, and that's the other part of the story", says Harbor Research President Glen Allmendinger. "The Internet of Things market pre-supposes the existence of a zero-infrastructure, ad-hoc network that makes seamless physical connections easy right down to a lowly light bulb or sensor… but most of today's competing technology standards were not even designed specifically for the Internet of Things."
Related analysis from the report includes:

Open, interoperable communications standards are why the Internet has succeeded. A unified interoperable architecture will be required for WPAN networks to succeed in the IoT;
Harbor's analysis strongly indicates that Internet Protocol (IP) is becoming the dominant most viable choice to link all IoT network types, including WPAN applications;
Because there are multiple, parallel standards competing for dominance for short-range wireless IoT networking, including IEEE802.15.4 and its many variants, proprietary standards as well as WLAN standard IEEE802.11 Wi-Fi, interoperability will be very difficult to achieve unless players quickly converge on fewer more universal standards; and,
Based on the research, many of the existing standards are unlikely to dominate the IoT and could evolve to become '"specialist" or niche standards because they are not capable of performing all the required network functions, including streaming data, large file transfers and messaging across the diversity of devices that require WPAN technology.
Looking forward, Harbor Research believes there is a major opportunity for select market participants to act as an "IoT architect or catalyst" and harmonize the network standards for short-range WLAN and WPAN applications around an existing, new or adapted suite of interoperable standards.
This report is the first of a four-part series that explores all network technologies associated with the Internet of Things. Additional information about the report can be found on:
http://harborresearch.com/2012-wpan-report/.
Who is Harbor Research?
Harbor Research Inc. has nearly 30 years of experience in providing strategic consulting and research services that enable our clients to understand and capitalize on emergent and disruptive opportunities driven by information and communications technology. The firm has established a unique competence in developing business models and strategy for smart systems services and the Internet of Things providing industry leaders and category creators with the data, analysis, interactions and insight to remain on top.
For more detailed discussion about Smart Systems and the commentary on the marketplace, please visit Harbor's website http://www.harborresearch.com and blog at http://www.harborresearch.com/smart-business.
Contact
Email: info(at)harborresearch(dot)com
Website: http://www.harborresearch.com
USA Phone Number: 800.595.9368 or +1.303.786.9000
UK Phone Number: Cambridge, UK: +44.122.339.3571