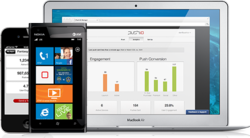 Our customers love the unique experiences they can create on Windows Phone, many of which begin with Live Tiles. We already deliver more than one million push notifications every day to Windows Phone 7 users
Boulder, Colorado (PRWEB) October 30, 2012
Push IO®, a leading push notification provider, is pleased to announce full support for Windows Phone 8. Push IO provides publishers with the most sophisticated hosted service to take full advantage of Windows Phone Live Tiles and Toast Notifications without the hassle of scaling or maintaining backend infrastructure.
"Our customers love the unique experiences they can create on Windows Phone, many of which begin with Live Tiles. We already deliver more than one million push notifications every day to Windows Phone 7 users," said Dan Burcaw, Push IO's co-founder. "More than 50% of those notifications are Live Tiles, a unique feature not available on any other mobile platform. We're thrilled to expand our commitment with full Windows Phone 8 support."
A Live Tile combines a variety of graphics and text options; an innovative blend of information compared to push notifications on other platforms. Push IO helps publishers get the most out of Live Tiles by automatically generating, hosting, and pushing personalized tiles to Windows Phone users.
"Push notification is a great way to enhance an app's user experience and Windows Phone 8's new Start screen and the addition of a third tile size offers developers more options designed to keep their app front and center for users" said JC Cimetiere, Director, Windows Phone Partner & Developer programs, Microsoft Corp. "Push IO provides the infrastructure needed to power these notifications so that developers don't have to worry about the complexity. They can start small and scale as they grow," he continued.
Push IO piloted its dynamic Live Tile feature earlier this year with Major League Soccer's MLS MatchDay app for Windows Phone 7. The company pushed custom-branded Live Tiles containing details about upcoming matches to fans based on their favorite team.
"Push IO's dynamic Live Tiles reward users with a peek at content personalized for them to drive engagement and attention," adds Chris Bettin, Director of Product Development at MLS Digital. "We have some great ideas for how to take this to the next level for soccer fans."
Push IO supplied a preview of their Windows Phone 8 SDK to select partners, including Vectorform, a global developer of digital products and experiences.
"Working with Push IO's SDK for Windows Phone 8 was extremely easy. All the documentation and samples were available directly from their site, which made for seamless integration into our app's final build," said Taylor Hanson, Project Manager at Vectorform.
Push IO's hosted push notification service lets developers and publishers focus on creating great apps rather than worry about building a robust, feature-rich push notification infrastructure. Push IO offers a complete set of features including:

A web-based composer with live preview
Audience segmentation and targeting
Push conversion metrics and re-targeting
Data trackers and advanced business logic
Reporting and analytics
SDKs and APIs supporting all popular mobile platforms
Hassle-free service and support
Pricing and Availability
A free thirty-day trial of Push IO's push notification service is available today at the company's web site (http://www.push.io). Push IO offers the flexibility of two simple pricing models: per user, for those who need unlimited push, or per push, for those who want to pay as they go. The Push IO Manager SDK for Windows Phone, integration APIs, and documentation can be downloaded from the Push IO support site (http://www.push.io/support).
About Push IO
Founded in 2009, based in Boulder, Colorado, USA, Push IO® is the world's leading independent push notification provider. The company's hosted push notification service has delivered more than 6 Billion push notifications and currently powers some of the most widely used apps from publishers in markets including media, sports, and enterprise.
For more information, contact us by email at info@push.io or visit us on the web at http://www.push.io.
Microsoft and Windows are trademarks of the Microsoft group of companies.
Copyright (C) 2009-2012 Push IO. All Rights Reserved. Push IO is a registered trademark.