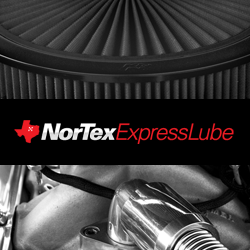 "We are happy to have met the needs of our client, Nortex Express Lube, by developing, designing and agreeing to maintain NortexExpressLube.com," says Hassan Bawab, Founder and CEO of Magic Logix
Dallas, TX (PRWEB) October 31, 2012
Magic Logix global digital marketing agency launches NortexExpressLube.com, a highly specialized automotive service provider to both consumers and fleets in McKinney, TX. Magic Logix is providing website maintenance service as well as website development and design services. The agency has comprehensively developed and designed NortexExpressLube.com's website in the latest Joomla version.
The main aspects of the development included a completely customized functional navigation bar with a special promotions page for Nortex Express Lube to update and change out as new savings and values may be presented to customers and clients.
Nortex Express Lube's site includes a fleet section for the business to business clients and inquiries. It also includes a service list for consumers and general inquiries. Both of those sections include access to promotions and a handy resource, a complementary Scheduled Maintenance Guide.
Magic Logix advised in the selection of the most beneficial social media approach to launch Nortex Express Lube and built in Facebook "like" capabilities directly into the design of the site. This strategic integration actually increases Nortex Express Lube's ability to promote itself and maximize consumer spend and referrals by a significant amount. On average, consumers spend $71.84 more on a brand if they become a fan on Facebook. Fans are 28% more likely to be loyal to the brand. They are also 41% more likely to refer to a friend (Syncapse, 2011).
Nortex Express Lube is more than just an oil changing service; it provides filter, fluids, emissions, manual transmission service, valve, belt, transfer case, wiper blade replacement, radiator flush and fill, and preventative maintenance for consumers and fleets.
"Nortex Express Lube is service centered. We worked with Magic Logix digital marketing agency because they completely customized oursite to the needs of the people and businesses we serve, and that is why wehave built a strong reputation and have life-time customers and clients," says Khalil Ballout, CEO of Nortex Express Lube.
"We are happy to have met the needs of our client, Nortex Express Lube, by developing, designing and agreeing to maintain NortexExpressLube.com," says Hassan Bawab, Founder and CEO of Magic Logix." We look forward to helping Nortex Express Lube continue to build its business around top quality and client focus in the website development, design and maintenance."
About Magic Logix
Headquartered in Dallas, Texas, Magic Logix is a leading global digital marketing agency that drives client business growth by merging creativity, technology and online marketing. Through proprietary client intake, workflow and project management processes, Magic Logix consistently yields top quality results, client satisfaction and long-term relationships. Through continual discovery of new industry best practices and partnerships with industry leaders, Magic Logix delivers world class business expansion solutions to mid-sized to Fortune 500 companies and government agencies. Magic Logix continually ranks internationally in the top ten Web Design, SEO and Web Development firms by Top SEOs, Best Web Design Agencies, Interactive Media, Communicator Awards, Tech 200, is GSA certified and a fast growth company in Inc. 500. Our in-house staff works closely with clients to provide completely customized solutions using the latest technologies, best practices and originally developed approaches to produce top-quality ecommerce solutions, marketing automation tools, custom content management system (CMS) and customer relations management (CRM) integration, and dynamic Web presentations. For more information, please visit http://www.magiclogix.com.
Stay connected with Magic Logix on LinkedIn, Facebook and Twitter.