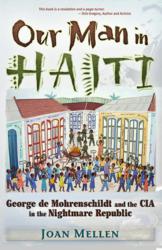 This document declares that Shaw had been a 'highly paid' CIA asset.
Walterville, OR (PRWEB) October 30, 2012
Joan Mellen's explosive new book, "Our Man in Haiti: George de Mohrenschildt and the CIA in the Nightmare Republic," includes a 1992 document from the CIA's own History Staff that declares Clay Shaw, to have been a "highly-paid contract source."
The allegation of Shaw actually being paid by the CIA has been denied for years and was one reason for Shaw's acquittal on the charges of conspiracy to assassinate John F. Kennedy that were brought against him by New Orleans District Attorney, Jim Garrison in 1967.
In a November 1969, Penthouse interview, Shaw declared, "I have never had any connection with the CIA." Shaw died in 1974. Former CIA Director Helms, in 1979, stated under oath that Shaw had been simply a part-time contact for Agency and had volunteered his information, but this 1992 document clearly states Shaw was "highly-paid."
Joan Mellen reveals more in this excerpt from, "Our Man in Haiti":
Later de Mohrenschildt said J. Walton Moore (CIA officer in Dallas) had "assured him that it was safe" for him to assist Oswald. Following the protocol set for CIA by Allen Dulles – that agents or assets or employees are not obliged to tell anyone anything, let alone the truth, that CIA need be loyal only to its own culture – Moore would deny he had ever discussed Oswald with de Mohrenschildt. Moore lied too obviously. He insisted that he had met with de Mohrenschildt on only two occasions. One was in the spring of 1958 when the subject was "China."
Soon Moore was forced to correct himself. He had interviewed de Mohrenschildt in 1957 after his return from Yugoslavia and had "periodic contact" with him over the years for "debriefing" purposes, Moore later admitted. This was standard CIA-speak, the same formulation CIA used for its New Orleans employee Clay Shaw, as CIA's history section finally acknowledged in the 1990's. No one was a CIA asset; businessmen in contact with the Agency were innocent travelers being "routinely" debriefed. "Routinely" was another CIA buzz word.
The Shaw example is worth pondering. In 1992, CIA's history component, a section of the Agency devoted to chronicling CIA's own history, would reveal – after years of denials, and obfuscation by CIA assets – that Shaw was not merely a businessman being "debriefed" after his travels by CIA. This document declares that Shaw had been a "highly paid" CIA asset. Issuing from CIA's "PROJFILES," it adds: "Our survey found nothing in these records that indicates any CIA role in the Kennedy assassination or assassination conspiracy (if there was one), or any CIA involvement with Oswald."
Then comes the extraordinary admission: "These records do reveal, however, that Clay Shaw was a highly paid CIA contract source until 1956." (In many CIA documents, the end date of service is more often than not standard disinformation, so that the 1956 date has to be treated skeptically). In Shaw's case, it was certainly not accurate.
In 1964, after the Kennedy assassination, just to be on the safe side, CIA destroyed de Mohrenschildt's personnel file.
"I would never have contacted Oswald in a million years if Moore had not sanctioned it," de Mohrenschildt told author Edward J. Epstein years later, and this rings true. J. Walton Moore had requested that de Mohrenschildt "keep tabs on Oswald." Later de Mohrenschildt claimed that Moore had assigned him to "find out about Oswald's time in the USSR."
In a quid pro quo, Epstein suggests, Moore would assist de Mohrenschildt in setting up an oil survey contract with Papa Doc.
There is no direct evidence of CIA's role in implementing de Mohrenschildt's deal with François Duvalier.
Nonetheless, the contract was executed in March 1963, a month before Oswald left Texas for New Orleans. CIA had another assignment in mind now for de Mohrenschildt.
Lest there be any lingering doubt that George de Mohrenschildt played for CIA in Dallas and Fort Worth the same role Clay Shaw did in New Orleans – that of handling and shepherding and monitoring Lee Harvey Oswald in his daily life – a further piece of evidence has emerged. Two large CIA Office of Security (OS) files reside at the National Archives. They date from 1967, the time of Jim Garrison's investigation and indictment of Clay Shaw in a conspiracy to assassinate President Kennedy involving Lee Harvey Oswald.
These OS files, brimming over with more than two hundred documents and photocopies of clippings pertaining to the Garrison case and Shaw, are not marked
"Garrison" or "Shaw." Rather, the file jackets read: "George de Mohrenschildt."
pp. 54-55
Joan Mellen is a professor of English at Temple University in Philadelphia. She is the author of twenty books, ranging from film criticism to fiction, sports, true crime, Latin American studies and biography. She has written for a variety of publications such as the New York Times, the Los Angeles Times, and the Philadelphia Inquirer. She has also lectured widely at universities and symposiums. In 2004, she was awarded one of Temple University's coveted Great Teacher Awards for outstanding achievement.
"Our Man in Haiti: George de Mohrenschildt and the CIA in the Nightmare Republic" is being released by TrineDay, November 1, and is available wherever fine books are sold.
Ms. Mellen is available for limited interviews.
Please contact Kris Millegan at publisher(at)trineday.net, or 1.800.556.2012.
###