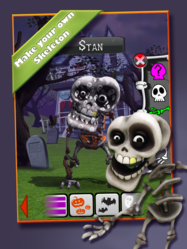 Talking Skeleton is built on our dynamic and ever evolving Vortex technology to deliver 3D virtual characters to mobile
San Francisco, CA (PRWEB) October 30, 2012
iOS and Android users looking to have some fun with a customizable and interactive 3D Skeleton of their very own can find all they desire with SiXiTS Talking Skeleton. This cheeky animated and interactive 3D character sports lots of fun features, and is featured in the Apple iTunes store under Halloween : Trick or Treat apps.
Talking Skeleton is designed by an all-star team of seasoned game, software, and media professionals who have held key positions at Disney's ImageMovers Digital, Lucasfilm Animation, Industrial Light and Magic and Electronic Arts.
This Talking Skeleton update lets iOS and Android users of all ages design their own Skeleton and:

Speak to him and hear him repeat in a low spooky voice
Photobooth mode, where you can take photos with you and your skeleton on Halloween night using your mobile device camera, then share with friends on Facebook, Twitter & email
Whack your Skeleton for some great animations and sound FX
A Game Mode lets you throw exploding pumpkins at your skeleton
Spooky sound FX to play on the keyboard
Turn your iPhone into a Flashlight to help see on Halloween night
The apps coolest feature is the a photobooth mode where users can change their Skeletons size, pose, and add captions, and share their photos with a friend after taking pictures.
"Talking Skeleton is built on our dynamic and ever evolving Vortex technology to deliver 3D virtual characters to mobile," commented Euan Macdonald CEO of SiXiTS, the app's creator. "Our cross-platform technology has now evolved to allow us to quickly create and deliver customizable characters to both iOS and Android devices."
Talking Skeleton for iPhone, iPad and iPod touch is available now in the App Store and for Android devices from the Google Play store.
iTunes: http://bitly.com/o2Y2Lx Android: http://bit.ly/QKwzNk
For more information or media inquiries, contact SiXiTS at +1 415 524 4765 or press(at)sixits.com.
About SiXiTS
SiXiTS is a new-media production company and publisher of superior entertainment content for distribution through internet-enabled channels. The team is comprised of seasoned game, software, and media professionals who have held key positions at Disney's ImageMovers Digital, Lucasfilm Animation, Industrial Light and Magic and Electronic Arts, and who have contributed to numerous high-profile film productions including Disney's A Christmas Carol, the Star Wars prequels, and the Harry Potter and Jurassic Park series. Game titles include the xBox 360 launch FIFA-Road to the World Cup, SKATE, Sims 3 and Need for Speed. Learn more at http://facebook.com/SiXiTS