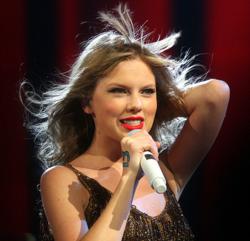 New York, NY (PRWEB) October 29, 2012
Taylor Swift's 2013 tour is named after her latest mega-hit album "Red" which is chock full of new tracks that her fans are sure to love. Swift made the excited announcement of the upcoming tour via a promotional video. She explained that the tour will kick off on March 13, 2013 because she considers the number 13 as her personal lucky number.
The March 13th show has been set in Omaha, while a repeat performance will happen at the Nebraska metropolis the next evening. Fans, take note that the Taylor Swift "Red" Tour will run through a total of 29 different states, followed by a quick run at Canada.
Taylor Swift's Red tour will pass through mid-America in May. This will include four shows in the Texas and one in Glendale, Arizona. The tour will wrap up with performances in North Carolina, Virginia and Tennessee in the first weeks of August 2013. This means that Taylor Swift fans will have more to look forward to in the coming months.
Taylor Swift will be touring with up and coming musician, Edward Christopher "Ed" Sheeran. He is a British singer, songwriter, and producer. In early 2011, Sheeran released an independent extended play, No. 5 Collaborations Project which led him to be signed to Asylum / Atlantic Records.
Taylor Swift "Red Tour" dates:
March 13 & 14 Omaha, Nebraska
March 18 & 19 St. Louis, Missouri
March 22 Charlotte, North Carolina
March 23 Columbia, South Carolina
March 27 & 28 & 29 Newark, New Jersey
April 10 Miami, Florida
April 11 & 12 Orlando, Florida
April 18 & 19 Atlanta, Georgia
April 20 Tampa, Florida
April 25 Cleveland, Ohio
April 26 Indianapolis, Indiana
April 27 Lexington, Kentucky
May 4 Detroit, Michigan
May 7 Louisville, Kentucky
May 8 Columbus, Ohio
May 11 & 12 Washington, DC
May 16 Houston, Texas
May 21 Austin, Texas
May 22 San Antonio, Texas
May 25 Dallas, Texas
May 28 & 29 Glendale, Arizona
June 1 Salt Lake City, Utah
June 2 Denver, Colorado
June 15 Toronto, Ontario
June 22 Winnipeg, Manitoba
June 29 Vancouver, British Columbia
July 6 Pittsburgh, Pennsylvania
July 20 Philadelphia, Pennsylvania
July 27 Foxborough, Massachusetts
August 1 Des Moines, Iowa
August 2 & 3 Kansas City, Missouri
August 6 Wichita, Kansas
August 7 Tulsa, Oklahoma
August 10 Chicago, Illinois
August 15 San Diego, California
August 19 & 20 Los Angeles, California
August 27 Sacramento, California
August 30 Portland, Oregon
August 31 Tacoma, Washington
September 6 Fargo, North Dakota
September 7 & 8 St. Paul, Minnesota
September 12 Greensboro, North Carolina
September 13 Raleigh, North Carolina
September 14 Charlottesville, Virginia
September 19, 20 & 21 Nashville, Tennessee
About CheapConcertTickets.me:
CheapConcertTickets.me delivers tickets to sold out concerts and events worldwide when no one else can, and they do so at discounted prices. As a member of TicketNetworkDirect, they can guarantee the delivery of tickets on time for sporting events, NASCAR, NBA, NFL, and NHL, and for Taylor Swift concert tickets. With CheapConcertTickets.me customer service is a priority, for more information email support(at)cheapconcerttickets(dot)me.