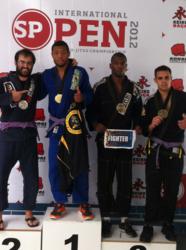 I would have never done this without the help of my teammates at Crazy 88 and Team Lloyd Irvin.

- Timothy Spriggs
Elkridge, ND (PRWEB) October 31, 2012
Professional Brazilian Jiu Jitsu Competitor, Timothy- Michael Spriggs, raised out of Columbia, MD, competed and won both the weight and absolute divisions at the World Professional Jiu Jitsu Championship (WPJJC) Trials in New York. With the wins in both divisions, Spriggs was rewarded with multiple prizes such as a cash reward, two uniforms and the main prize being an all expenses paid trip to Abu Dhabi to compete at the WPJJC Championship.
Spriggs, a recent graduate of Saint Johns University in New York, has recently been on a huge winning streak in Brazilian Jiu Jitsu ever since he started to train professionally at Crazy 88 Brazilian Jiu Jitsu located in Elkridge, MD.
Spriggs has been training along with well known jiu jitsu athletes such as JT Torres, DJ Jackson, and many others. He also is a part of new internet reality show, The Next World Champion.
Spriggs is currently in the middle of competing in three straight high level grappling tournaments. Last weekend he had also won two gold medals at the International Brazillian Jiu Jitsu Federations (IBJJF) Miami Open. Before that, he also took Double Gold at the prestigious Sao Paulo Open, and the Atlanta Open competitions.
Spriggs competed in the Purple Belt Under 202lbs category as well as the Absolute (All-Weights) group. He had eight matches and won all of them in dominant fashion.
Directly following his win in the finals of the Absolute category, Spriggs ecstatically claims, "I would have never done this without the help of my teammates at Crazy 88 and Team Lloyd Irvin."
This is the second year in-a-row that Spriggs has won the all expense paid travel package at the WPJJC trials in New York. Timothy- Michael Spriggs has been training out of Crazy 88 Brazilian Jiu-Jitsu, a professional Brazilian Jiu Jitsu gym located in Elkridge, MD, since he was 17-years-old.