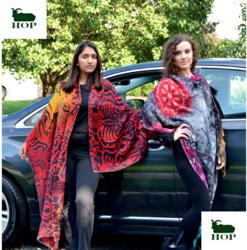 Pamper Yourself In Style
New York, NY (PRWEB) October 31, 2012
The HOP Cashmere brand of NY is 3 years old now. This year HOP Cashmere brand launched a new designer pashmina line named Arte Della. The name Arte Della came from the Medieval Europe where the Guilds of Florence were called Artis and two of the famous guilds that did business in wool and silk were called Arte Della Lana and Arte Della Seta. This new designer line consists of many unique designs based on fusion of fine art and contemporary ideas.
The editor of InJersey magazine of New Jersey, Jackie Sargent has recognized the Arte Della designer scarves line as the Best Gift Ideas of 2012 Holiday Season. The InJersey Magazine is a premium style magazine of New Jersey that is available as subscription by invitation only for upscale establishments, homes and offices. The Arte Della designer scarves and Pashminas are slated to feature in the upcoming Holiday Gifts edition of InJersey Magazine as a Best Gift Idea for Holidays.
"Our designers have worked hard on this premium scarf and pashmina line and it feels great to see our scarves being recognized by such premium magazines as InJersey. We thank the editor of Injersey magazine and the staff who thought of our scarves line and presented it to their readers as a Best Gift Idea of 2012 Holiday Season." - chimes Anu, the president of HOP Cashmere brand.
About HOP Cashmere
HOP Cashmere is a New York area based Cashmere Pashmina Design/Import House with online presence as Home Of Pashmina and Arte Della and its products are available in various boutiques in USA . Anu C – The owner of HOP Cashmere brand and President of Home Of Pashmina has many years of experience as merchandiser in a apparel manufacture and export company. Anu has also appeared in New York Area magazines as a upcoming women entrepreneur and a Pashmina lover.
For more information about HOP Cashmere and Arte Della or to order a press kit, please contact:
Anu Chandwani
Telephone: 800-757-2297
Email: ac(at)homeofpashmina(dot)com
Online: http://www.HOPCashmere.com and http://www.ArteDella.com