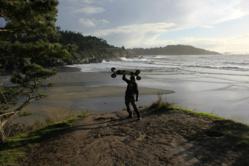 Mendocino County offers endless outdoor adventures!
Mendocino, CA (PRWEB) October 31, 2012
JB Tourism Media Group recently launched the Mendocino Lovers' Sweepstakes—offering fabulous prizes for anyone desiring an exciting getaway. For those in the hospitality industry, a sweepstakes is a marketing approach to grow a company's revenue and increase its exposure. Use the innovative ideas found on http://www.mendocinocountylovers-sweepstakes.com/ to create a revenue-producing sweepstakes.
"The hospitality industries have been hit hard by the economic recession," said Jeane Bilolavek, owner of JB Tourism Media Group and the sweepstakes creator. "And an online sweepstakes can make a difference. It helps to get media attention and new website visitors. For us, it's been six weeks since the launch—and it's doing just that."
Click here to find out more about the Mendocino Lovers' Sweepstakes.
One of the essential planning components of the Mendocino Lovers' Sweepstakes was the collaboration among sponsors, Bilolavek explained. This often meant bundling prizes together to create larger grand prizes. This has led to more registrants and greater exposure for the sweepstakes. "Naturally, it makes sense for an inn that offers elegant accommodations to bundle their prize with a restaurant that offers fine dining, and a company that provides engaging wine tours," she added.
Bilolavek believes that pairing prizes like dinner and lodging also cuts down on the workload. "If you surround yourself with professionals and get the buy in from the community creating a sweepstakes becomes that much easier," she said. "But stay focused: The more exciting the prizes, the more people you are going to attract to your website."
Collaboration to promote a sweepstakes also involves engaging with community leaders and organizations:

Enlisting the support of nearby tourism offices
Contacting local chamber of commerce to announce it
Developing partnerships with well-known local companies
Networking at business events to meet more potential sponsors
In addition, it's important that the sweepstakes rules are simple and easy to follow. For instance, information that explains the time period for entering and the dates winners will be announced should be clear, Bilolavek explained.
And once the sweepstakes begins, stay committed to weekly follow ups to engage sponsors and visitors. It can help to use social media, send out blogs, secure some radio and TV spots, and more, Bilolavek stressed. "You're hoping it'll go viral— but you just don't know if or when something will take off."
A sweepstakes may take a year or more from the initial planning process to the final launch. Therefore, it is important to break tasks down into manageable chunks—from finding prizes and sponsors to focusing on public relations and nailing down the rules.
But in the end, Bilolavek said, it all comes back to the quality of the prizes. They must be worthwhile or no one will enter the contest. Mendocino County, for example, offers fine dining and endless outdoor adventures to pursue. But one could say this about many areas throughout the country. "What's key is to plan ahead and get worthy sponsors," she added, "and utilize what's available in your community. If you do that, then you'll be successful."
The Mendocino Lovers' Sweepstakes is the first sweepstakes launched by JB Media Tourism Group. The company has published the Gold Country Directory and The Mendocino Directory for more than 25 years.
Contact: Mendocino Lovers' Sweepstakes
info(at)mendocinovisitors(dot)com
Ph: 415.488.1285