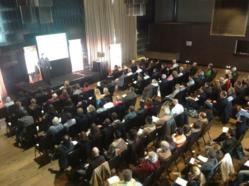 The purpose of these seminars is to show people that there are alternative – and much better – ways to buy houses
(PRWEB) October 30, 2012
The SQM Research recently released a report proving that the national vacancy rate (currently at 1.8 per cent) still indicates a landlord's market. This shows that more Aussies choose renting over buying homes because of a number of hindrances including saving for a deposit.
But, according to property innovator Rick Otton, "People don't always have to save for a deposit or seek bank financing or go to a lender in order for them to buy their own house. Through creative real estate strategies, it's now possible to buy a house with little, or no, money and without banks."
Become Homeowners through Rent-to-Own
One of the many strategies that Otton teaches is the rent-to-own strategy, which helps renters transition to homeownership. "Through rent-to-own, both the major first-homebuyer hurdles: the deposit and the loan are solved as it gives people the choice to buy any house on a fixed set of terms," Otton explained.
The rent-to-own strategy also serves as a stepping stone between renting and buying. It helps first homeowners overcome the barriers of owning a house as it allows them to "try the house before they buy".
Rick Otton has helped thousands of individuals buy their own homes as well as moved a number of families from being renters to homeowners through the rent-to-own strategy. Among them, J and S Sarai are now happily living in their own home without worrying about paying for it.
"We bought a $1.3 million house on a rent-to-own. It cost us $15,000 up-front and $1,125 per week. We are extremely grateful because this would not be possible without Rick!' the Sarai's said.
Mr. Otton is touring the country and spending eight hours to discuss the rent-to-own strategy and other creative property investment strategies. In these seminars, he shows people how these strategies could be used to buy houses without money or bank.
"The purpose of these seminars is to show people that there are alternative – and much better – ways to buy houses. There's no need to save for a deposit or go to a bank and apply for a loan. And they wouldn't have to worry about paying for monthly mortgages with unstable interest rates down the road," Mr. Otton explained.
Learn more about Rick Otton's property investment strategies by coming to his one-day training seminars. There are only 2 events left for the year so go now to http://www.howtobuyahouseforadollar.com/register and reserve for a free seat.
4 November – Brisbane
24 November – Melbourne
For more than 20 years, Rick Otton has been identifying undervalued assets in the real estate market, snatching them up and selling them to build wealth. Otton is the founder and CEO of We Buy Houses, an innovative property firm that has been successfully employing his strategies in the U.S., U.K., Australia and New Zealand.
Otton formulated his strategy in the early 90s and within his first year of real estate investing acquired a portfolio of more than 75 properties. Since then, Otton has made millions in the real estate market, generating huge profits with little risk to his own capital.
Today, Otton is teaching Aussies how to enjoy the same success he has had, buying and selling residential real estate without the debt, risk and reliance on bankers that plague many conventional real estate investors.
Otton has been featured on a variety of Australian TV shows, including an ABC documentary, Today Tonight, A Current Affair and Insight. In 2007, Otton was featured on Channel 9's Hot Property, and gave away a home.
In addition to his television appearances, Otton has also been profiled in publications such as Australian Property Investor, Lifestyle Trader and Your Property Network, among others.
You can learn more about Otton and his innovative investment strategies by visiting http://www.rickotton.com.