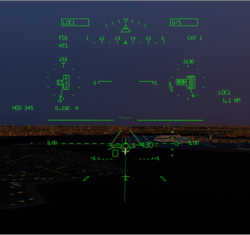 "I was so impressed with the realism and quality of the FlyRealHUDs.com HUD displays, I made them part of our HUD Vision Access Promotion at NBAA2012
(PRWEB) October 30, 2012
FlyRealHUDs.com announced at the National Business Aircraft Association 2012 Convention in Orlando, FL (NBAA2012) the launch of a suite of Head-Up Display (HUD) simulation products for aviation enthusiasts. The HUD products are part of the Jetcraft Avionics "HUD Vision Access Program" promotion at NBAA2012. The HUDs are the first full fidelity and function HUD simulation applications that operate with the X-Plane simulator. FlyRealHUDs.com models include all the functionality of HUD operations; including a flight path vector, navigation functions, wind data, upset recovery, and instrument approach operations. HUDs for Air Transport and Bizjets are currently available on FlyRealHUDs.com with Helicopter and Military aircraft HUD versions coming soon. Flying the new FlyRealHUDs.com HUD simulator, aviators can test their skills in simulated instrument conditions for a CAT I, II, and CAT III approaches – including Enhanced Vision Systems.
FlyRealHUDS.com applications operate with X-Plane versions 9 and 10, and are designed for the PC and Mac. Aviators can hone their skills by flying an approach into Seattle in the fog or a night approach into John Wayne airport, Beijing or London. They can test out the HUD operations in a large commercial transport, or a regional carrier. The FlyRealHUDs.com HUDs provides precise control throughout all phases of flight, from takeoff, climb, enroute navigation, and final approach.
Today, HUDs are standard equipment on many corporate and commercial airline flight decks. But there is no ready to go affordable HUD simulator – except in an expensive full motion simulator. FlyRealHUDs.com is the first real HUD simulator for PC or MAC computers. The company can also provide custom HUD solutions for clients who want aircraft specific Head-Up displays. Pilots have learned that PCs are a great way to learn the operation of a HUD through focused tasks and interactive hands on learning. The FlyRealHUDs.com applications can be used with any X-Plane aircraft simulation as a scenario based training tool to fly approaches to any planned destination.
Ken Elliott, Vice President Avionics Systems, Jetcraft Corporation, said, "I was so impressed with the realism and quality of the FlyRealHUDs.com HUD displays, I made them part of our HUD Vision Access Promotion at NBAA2012. Because they can be used on the PC and MAC almost anyone can take the challenge and fly a real HUD right on their desktop. These HUD simulations will change the way pilots learn to fly a HUD".
FlyRealHUDs.com is a company of aviation enthusiasts that love the art of creating and applying new technology in places most are afraid to go. Challenging the conventions of today's flight simulation markets, FlyRealHUDs.com believes you can fly the real thing. Inquiries about FlyRealHUDs.com can be made via their website.