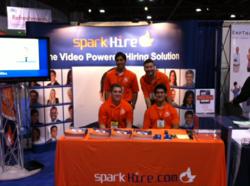 We want everyone to understand that integrating video interviews can help companies of all sizes and across all industries make smarter decisions in their hiring processes. - Josh Tolan, CEO of Spark Hire
Chicago, Illinois (PRWEB) October 30, 2012
Spark Hire (http://www.SparkHire.com), the leader in online video interviewing solutions, continues its successful nationwide tour of HR conferences and expos with a stop at the 2012 HRMAC Summit held at the Donald E. Stephens Convention Center in Rosemont, IL on November 8th.
"We have generated a lot of buzz this year at several major HR events and are excited to show HRMAC attendees the power of online video interviewing," said Josh Tolan, CEO of Spark Hire. "As a member of HRMAC, our main goal is to educate other members, as well as other HR professionals, on the benefits of utilizing video in the screening and interviewing process. We want everyone to understand that integrating video interviews can help companies of all sizes and across all industries make smarter decisions in their hiring processes."
Spark Hire will be located at Booth 518 and will feature video demonstrations including:
Spotlight Interviews: Employers can send a series of questions to candidates who respond with video answers. These asynchronous video interviews can be watched by the employer at their convenience.
Live Interviews: Employers can connect face-to-face with job seekers using their webcam. These live video interviews are even recorded and available for playback.
Spark Hire will also have fun giveaways such as t-shirts, coffee mugs, and even some free iPads! Be sure to stop by to watch one of the demonstrations for your chance to win one of these great prizes!
About Spark Hire:
Spark Hire is a video powered hiring network that connects job seekers and employers through video resumes and online video interviews. By integrating video screening and video interviewing into the hiring process, Spark Hire bridges the gap from the initial application to the final hiring decision by providing job seekers with a better way to stand out and employers with a more efficient way to identify top candidates. To learn more about video in the hiring process, download Spark Hire's free video interviewing eBook. For more information about Spark Hire, please visit SparkHire.com.
About HRMAC:
HRMAC is the largest and oldest organization of its kind in the country and has become known as the premier human resources organization in the Midwest. Membership currently stands at over 700 companies in the greater Chicago metropolitan area. For more information, please visit hrmac.org.