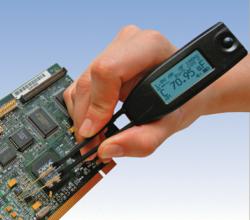 Smart Tweezers LCR-meter has earned a reputation of a high quality professional tool
Warsaw, Poland (PRWEB) October 31, 2012
Being on the market for nearly 9 years Smart Tweezers LCR-meter has earned a reputation of a high quality professional tool. Currently it is used by all major high tech companies all over the globe. Despite that, calibration of Smart Tweezers is only available in North America and India. This is a big disadvantage for many companies requiring annual calibration and/or calibration verification of their test equipment in order to be ISO compliant.
Some companies use calibration services of third parties. In this case it is not actual calibration with adjustment of calibration coefficients but rather verification of the measurement accuracy by comparing the measurement results to the actual values of high-precision components. Although this is a common practice, this kind of "calibration" does not guarantee optimal Smart Tweezers performance.
"In order to calibrate Smart Tweezers LCR-meter you need to have the Calibration Fixture designed particularly for Smart Tweezers' calibration and adjustment of the calibration coefficients." says Michael Obrecht, Director at Siborg Systems Inc. "This calibration fixture itself needs to be calibrated annually to ensure the highest possible precision."
The Smart Tweezers' Calibration Fixture is a semi-automatic device that updates the calibration coefficients stored in EEPROM of every Smart Tweezers unit. The update is based on comparing the results of measurements obtained using Smart Tweezers with values of a few high-accuracy components called "the standard components". The calibration coefficients are eventually adjusted by finding the best fit to the values of the standard components ensuring optimal performance of Smart Tweezers.
Currently there are only three such calibration facilities in the world: in Waterloo, Ontario, Canada, Pasadena, California and New Delhi, India. Therefore companies in Europe have to send their devices for calibration back to the USA or to Canada or use alternative calibration verification by comparison with high tolerance components.
Shipping to Canada, handling customs, etc. makes it a very slow and costly procedure.
To make the calibration cost and time effective for European customers, Siborg Systems Inc. of Canada, and Bokar International of USA teamed-up to establish a calibration facility at Production Solutions of Poland which services for years Bokar's SMT and ESD products. Production Solutions since 1992, as the first company in Poland provided polish and central European electronic industries with the highest world-class equipment and products for SMT production, rework and repair and all what is needed for protection against Static Electricity (ESD). This includes among others ESD meters, Grounding, Ionizing, ESD Apparel, ESD Shoes, ESD Tools, Table and Floor rubber, non-burn mats etc.
Bokar International and Production Solutions supply the newest generation of American and Japanese SMT Rework, Repair and Assembly equipment. Specialists from Motorola, Nokia, Felextronics, Philips and all main producers of communications systems and other electronic devices appreciate high quality and reliability of these products. High tech customers include Lockheed Martin, Intel, Boeing, Apple, US Army etc.
For end user it is the best equipment at the lowest price. For quick deliveries and service the equipment is assembled and serviced in the USA, and Poland. It includes: X-FineRework Series, Hot Air Systems, Pick and Place Machines, Stencil Printer, Convection Batch Ovens, Paste Dispensers, Convection Pre-heaters, N2 systems and complete ESD protection Systems (including state of the art ESD meters).
About Siborg Systems Inc:
Established in 1994, Siborg Systems Inc. is a source of engineering software and hardware tools for semiconductor and electronics industry. Located in the city of Waterloo, Ontario, Canada, it enjoys being part of the local world-renowned high-tech community.
About Bokar International:
Bokar International produces and sells an innovative type of SMT (Surface Mount Technology) Rework, Repair and Assembly tools and equipment. Bokar has developed a full line of such equipment and accessories, and is developing several new, more sophisticated models.