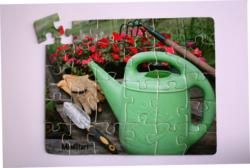 MindStart knows how to design and create opportunities for engagement that enrich day-to-day life for people with dementia.
Minneapolis, MN (PRWEB) October 30, 2012
5.4 million Americans are living with Alzheimer's disease or other forms of dementia and over 15 million family members or friends serve as caregivers (Alzheimer's Association Facts and Figures 2012). These families have many struggles along the way as this condition takes away abilities of the person to do everyday things, to speak, and to remember.
On Thursday, November 1, 2012 at 10:00am CST, MindStart owner, Monica Heltemes, OTR/L, will be broadcasting live with Alzheimer's Speaks Radio founder and host, Lori La Bey, on the topic "Staying Active with Dementia" to help caregivers understand how they can help.
Alzheimer's Speaks Radio was founded in 2011 to give help and hope to those affected by memory loss, which can include: the person; care partners, both family and professional; researchers; and advocates. The radio show shares the stories and experiences of these people to answer questions, remove stigmas, and raise awareness about dementia.
MindStart has produced a line of unique designed dementia activities. They are adult hobbies, such as games and puzzles that have been simplified so that the person with cognitive limitations due to dementia can still be active and successful.
Monica will share with the audience her experience as an occupational therapist (OT). Her unique perspective as an OT allows her to assess a person's cognitive and functional abilities; adapt tasks and hobbies so that they match that ability level; and train and educate caregivers, all while recognizing and maintaining the individuality of the person affected. Monica will tell how she incorporated all of these concepts into each MindStart product, so that each activity product successfully provides cognitive stimulation for the person. She will also share why MindStart products are important in slowing the rate of decline from dementia and how they reduce the strain on caregivers
Live calls can be taken during the show by calling (714) 364-4757. The show can be accessed afterwards through Alzheimer's Speaks blog talk radio.
MindStart is a small, family owned business, started by an occupational therapist to provide activities for dementia while providing support and education for caregivers. MindStart works with dementia care experts and USA companies to design and manufacture adapted, yet dignified, activity products