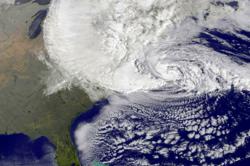 Washington, DC (PRWEB) October 31, 2012
Whenever large scale natural disaster strikes, there can be a sense that the catastrophe is of "Biblical Proportion." The perception that wars, rumors of wars, earthquakes and deadly storms (see Matthew 24:6-7) are increasing in size and frequency fuels the fears that the "End of Times" is nearing. Hurricane Sandy is being called a monstrous "Frankenstorm" as it pounds rain and snow across the northeast. This storm's close proximity to the Mayan Calendar's supposed ending on December 21, 2012 has some fearful of the coming destruction.
"People have always feared a catastrophic end as long as human history has been recorded," says Dr. Steven Buser, a psychiatrist with the Asheville Jung Center. "There is something about the possibility of a global apocalypse that obsesses some peoples' minds. This can be seen as an unconscious complex that develops a life of it's own and can lead to near hysteria in vulnerable groups of people."
Across the world today, many are preparing for earth's final destruction on December 21, 2012 – the expiration of the 13th B'ak'tun in the Mayan Long Count Calendar.
Dr. Buser's organization, the Asheville Jung Center, in conjunction with innerQuest Psychiatry has organized a global event to discuss both the specific fear of December 21st as well as the recurrent phenomena of predicting the earth's destruction. They will have some of the world's leading depth psychologists leading an internet discussion simultaneously from Zurich, Washington DC and Asheville. Anyone interested can participate in the discussion live on the internet, including the ability to ask direct questions to the presenters. The seminar will be held on Thursday November 29, 2012 (a few weeks prior to the world's end!) from 11 am- 2pm EST. Nancy Swift Furlotti, a Jungian Analyst in private practice in the Los Angeles area, will be in the Washington DC site presenting her research on the Maya calendar and it's meaning. Participants can join live on the internet or watch a recorded version. More information is available at http://www.AshevilleJungCenter.org