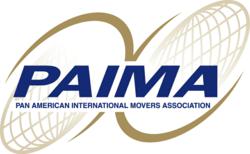 Pittsburgh, PA (PRWEB) October 31, 2012
Laura May Carmack, AIReS' Quality Manager, was named the new President of the Pan American International Movers Association after an election at PAIMA's annual General Assembly meeting on October 9.
In her new role, Ms. Carmack will provide leadership for the Board of Directors and General Assembly while overseeing the continuing growth of the organization.
Following the election, Ms. Carmack delivered an acceptance speech in which every PAIMA member present handled a piece of textured fabric and pulled out a thick thread, demonstrating that each member of PAIMA is important to the strength of the PAIMA fabric, and that each thread has a special place in the organization, and only that one thread can fit into that special slot and contributes by providing ideas, tonnage, and their vote at the PAIMA General Assemblies.
PAIMA is an exclusive network of international moving companies that prides itself on going the extra mile for its members and the customers they serve.
Ms. Carmack's appointment began immediately following the election and will run for the next two years. After her term, she will continue to serve on the PAIMA Board of Directors.
Ms. Carmack had previously served on the Board as Secretary from 2010 to 2012.