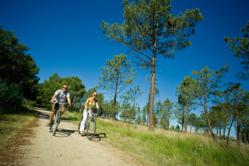 Siblu is helping families travel lighter to France by launching free bike hire and free bed linen
Bordeaux, France (PRWEB UK) 31 October 2012
Siblu Villages has launched free bike hire worth 150€ and free linen worth up to £55 with bookings at two holiday parks in Normandy and Brittany.
The holiday park specialist is helping families travel lighter by including the bike vouchers and bed linen on all bookings to Domaine de Litteau in Normandy and Domaine de Kerlann in southern Brittany made before 10 February 2013.
Both holiday villages are perfect bases for families to explore the local regions in the saddle:

Domaine de Litteau sits on the edge of the Cerisy Forest in Calvados, the 'milk-cart' capital of France known for its lush countryside, apple orchards and picturesque towns. The park has a heated covered swimming pool, small fishing lakes and an adventure playground for children. Prices start from £392 for seven nights from 25 May, for a family of four staying in a two-bedroom holiday home.
Domaine de Kerlann is close to the dramatic Breton coast, the pretty harbour-town of Pont Aven and dedicated cycle routes to Quimper, Brittany's oldest city. Bookings include three free children's clubs, indoor and outdoor heated pools and evening entertainment. Prices start from £413 for seven nights from 25 May, for a family of four staying in a two-bedroom holiday home.
Bikes are available to hire directly from siblu holiday villages and the 150€ voucher covers two adult and two children cycles for one week in June (later prices may vary). Linen packs include sheets, pillow cases and duvets for double beds (£15 per pack) and single beds (£10 per pack), cutting down on the luggage, and the wash loads, for families after their holiday to France.
For more information and bookings go to http://www.siblu.com/special_offers/travel-light.php.
About Siblu Villages

Siblu owns 15 holiday villages across France: Domaine de Litteau (Normandy), Domaine de Kerlann, Pierres Couchees (both Brittany), Domaine de Dugny (Loire Valley), Le Bois Masson, Le Bois Dormant (both Vendee), Les Charmettes, La Pignade, Bonne Anse Plage (all Charente Maritime), La Reserve (Aquitaine), La Carabasse, Le Lac des Reves, Les Sables du Midi (all Languedoc), Le Montourey (Cote d'Azur)
Siblu has sold holidays to France for more than 30 years
Siblu welcomes around 120,000 guests every year
With more than 25 activities available at every holiday village, lifeguarded pools and free children's clubs, siblu is a perfect setting for families
For more information visit: http://www.siblu.com or 'like' the brand on Facebook at http://www.facebook.com/sibluholidayvillages
For press information: contact Daniel Johnson: daniel (at) danieljohnsonpr (dot) com, 07429 256 670.