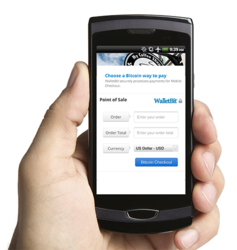 Copenhagen, Denmark (PRWEB) October 31, 2012
The new Point of Sale Mobile Checkout allows you to select any local currency and input an order number/information. The Mobile Checkout generates a QR code and address on the spot which can be read by WalletBit or any other Bitcoin wallet. Mobile Checkout is available on both WalletBit and the mobile ResponsePay, giving the ultimate flexibility in mobile checkout solutions.
Your transaction history will show the local currency value, Bitcoin totals and all other relevant information. Never before has it been so easy to accept Bitcoin payments anywhere in the world and all for as low as 0.89%.
WalletBit
To access the Mobile Checkout option:
1. Log into your WalletBit account
2. Make sure you are on the dashboard page
3. Select the 'Mobile Checkout' button on the dashboard.
https://cdn.walletbit.com/includes/press/pos.jpg
ResponsePay
To access the Mobile Checkout option:
1. Log into your ResponsePay account.
2. Select 'Payment address'
3. Select 'Mobile Checkout'
https://cdn.walletbit.com/includes/press/mobile_checkout.png
Of course, you can still check out using our standard integration modules. We have done all the work to make it easy to integrate Bitcoin payments into many shopping carts such as PrestaShop, OpenCart, WMHCS, Magento and OSCommerce. With plans to create even more modules and easy to understand documentation, it is easy to accept Bitcoin payments with WalletBit.
As part of our commitment to security we have implemented up to three-factor authentication for all accounts. WalletBit uses Google Authenticator for a 2nd factor authentication and our proprietary Secure Card technology as 3rd factor to protect your account against keyloggers. WalletBit is the longest running Bitcoin wallet service in operation today. Both ACID Compliant and compliant with the security requirements developed by the PCI Security Standards Council to be PCI-DSS certified, we have proven our ability to keep your funds safe.
And as an extra gift to our loyal customers, WalletBit will be offering a 1 day special of 50% off for Bitcoin Friday. WalletBit is ready for the future of Bitcoin – Are you?
About WalletBit
Copenhagen based WalletBit and subsidiary ResponsePay is the world's leading way to make payments in bitcoin online and beyond. WalletBit offers simple, flexible and secure wallet solutions with the tools you need to sell goods and services easily for bitcoin. WalletBit was founded in July 2011 and currently has offices in Copenhagen, Denmark and Mississauga, Canada.