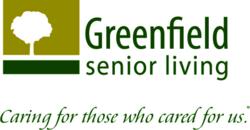 Falls Church, Virgnia (PRWEB) October 30, 2012
In cooperation with The Commonwealth of Virginia, Greenfield Senior Livings Safe Haven Program is designed to provide short-term emergency shelter and care for seniors who are victims of abuse, neglect, disabled seniors, or seniors displaced due to emergency situations. As a Caseworker resource, this program is designed to streamline the placement process and work in partnership with the community. After establishing individual's needs, the social worker simply contacts the nearest Greenfield Community and request a Safe Haven Program emergency placement.
About Greenfield Senior Living:
The Greenfield Senior Living mission: By building bridges within communities, we transform the experiences of senior living and allow our residents to lead full and enriching lives. Through superior outcomes in resident care, an exceptional dining experience and unique social and recreational programs, Greenfield Senior Living of Falls Church, Virginia has transformed senior living at our communities across the Commonwealth of Virginia and now continued growth in Tennessee & Pennsylvania. Offering assisted living, personal care, memory care and independent living programs we are passionately dedicated to "Caring for those who cared for us" TM and take privilege in the opportunity to make a difference in the lives of our extended family. Integrity is the heartbeat of our organization, ensuring our residents and care teams are always treated with respect and dignity. As of August 2012, Greenfield employs approximately 650 people and has a capacity to serve over 900 residents throughout the eleven communities we operate.
For further information, please contact:
For Communication Inquiries:
Kevin Bonello –
Dir. Communications & Brand Management
Direct Phone: #703/962-9125
Mobile Phone #703/638-0591
Fax #480/247-5327
kbonello(at)greenfieldseniorliving(dot)com
For Resident Emergency Placement
Olga Soehngen
Regional Dir. Community Relations
Phone #703/237-5606
Fax #480/247-5327
dmcharg(at)greenfieldseniorliving(dot)com
Or visit our website at: http://www.greenfieldseniorliving.com
"Caring for those who cared for us."