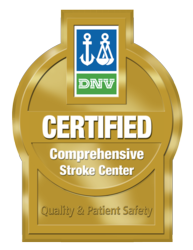 These programs help establish standards of excellence and best practices
Cincinnati (PRWEB) October 30, 2012
DNV Healthcare today introduces its disease-specific standards and certification program for Comprehensive Stroke Centers, following the guidelines set forth by the Brain Attack Coalition and the American Stroke Association for treatment of the most serious stroke events.
The DNV Comprehensive Stroke Center Certification encompasses the full spectrum of stroke care – diagnosis, treatment, rehabilitation and education – and establishes clear metrics to evaluate outcomes. Comprehensive stroke centers are typically the largest and best-equipped hospitals in a given geographical area that can treat any kind of stroke or stroke complication.
In a growing number of states, stroke center certifications determine to which facility a patient should be taken for the most appropriate, reimbursable care. In Texas, trauma and EMS teams are required by the Texas Department of State Health Services to transport patients to the nearest certified stroke center to help ensure the best possible treatment based on the severity of the problem. DNV is an accepted certification body within the Texas stroke center designation program, and expects to attain similar status in other states with designation programs.
The first hospital in the US to receive DNV's Comprehensive Stroke Center Certification is The Methodist Neurological Institute's Eddy Scurlock Stroke Center, the largest stroke unit in Houston's Texas Medical Center.
"Accreditation and certification in healthcare provide much more than recognition," says Yehuda Dror, president of DNV Healthcare. "These programs help establish standards of excellence and best practices that directly impact patients' lives. Comprehensive Stroke Center is the highest level that can be achieved by a stroke-care program, and we are pleased to be working with the leading organizations to bring forward this new certification. This certification is available to all qualifying hospitals, regardless of who their accrediting organization is."
About DNV Healthcare
Based in Cincinnati, Ohio, DNV Healthcare is part of Det Norske Veritas, a global independent foundation dedicated to safeguarding life, property and the environment. DNV accredits acute care and critical access hospitals, and also provides Comprehensive as well as Primary Stroke Center certification. For more information, visit http://www.dnvaccreditation.com.