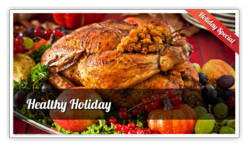 Corporate & Workplace Holiday Special
Chicago IL (PRWEB) October 31, 2012
TMAIDA PR & Chicago Wellness (CHEW) announces a new promotion for Workplace Wellness called Healthy Holiday's Workshop.
The words Healthy and Holiday are rarely found in a sentence together, let alone a meal. But what if the two words could coexist? Imagine sharing the holidays with your loved ones and not worrying about calories, fat grams and that horrible post-holiday guilt. In this workshop, JM will go over the typical holiday dinner do's and don'ts, uncover the sad nutritional truth behind some of our culture's most treasured dishes and enlighten you with ways to overcome overeating all while enjoying an interactive cooking demonstration. A delectable tasting of her favorite Healthy Holiday Recipe Redo's will follow. 'Tis the season to be Healthy!
CHEW, a Chicago based corporate and workplace wellness expert now offers a workplace wellness program called Healthy Holiday's Workshop. All CHEW workplace wellness programs are intended to help employees, managers and owners gain more energy, health and success in their jobs. To learn more, go to: http://www.jmchews.com/workplace-wellness
About CHEW
CHEW (Complete Health Education and Wellness) was founded by Jessica Marie, a Certified Health Coach and Healthy Living Expert. Providing holistic health and wellness for individuals since 2007, Jessica Marie strives to give people healthy lifestyles whether they are at home or in the workplace. CHEW offers health programs, interactive workshops, and Chicago Food, Fitness & Fun Tours for individuals and corporations.
For more information about CHEW, call the company at 773-717-2439(CHEW) or visit the website at http://www.jmchews.com.