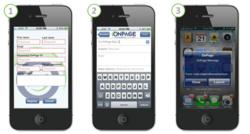 (PRWEB) October 30, 2012
Onset Technology, the creator of OnPage Secured Priority Messaging announced today that an Orthopedic Surgery Center has implemented OnPage for their staff and MD's. The surgery center will use the OnPage application as well as the web-based console to speed up and improve efficiency of their communication system.
The Orthopedic surgery center is skilled in the treatment of athletic related conditions, workplace injuries and all other problems of the musculoskeletal system. As a surgery center, the immediacy of their communication is crucial. The surgery center needed a fast, immediate and secure way to send/receive and monitor their messages. With OnPage they were able to receive pages up to 400% FASTER than they had previously with traditional pagers.
OnPage's Web Management Console also helped the organization to centralize their messages and administer specific roles and permissions for users. By using OnPage's priority messaging app and secure web console, this surgery center was able to improve speed, accuracy and security of their messages.
ABOUT ONSET TECHNOLOGY
Onset Technology is a leading vendor of mobile messaging solutions to organizations with emergency communications requirements. The company's OnPage mobile app turns iOS, BlackBerry, and Android smartphones into secure digital pagers, supported by an enterprise-grade messaging and paging platform. Onset Technology's OnPage is now used by over 1,000 organizations, including those in healthcare, emergency services, information technology, financial institutions, the legal profession, and government agencies. For more information about OnPage, visit http://onpage.com/. For other products by Onset Technology visit http://onsettechnology.com/