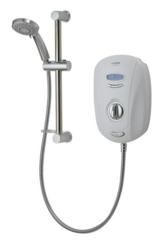 While we have many customers who like to buy direct from us on our website, we also know that some of our customers prefer to use shopping sites such as Amazon and eBay to make their online purchases
(PRWEB UK) 30 October 2012
The new GSX range of electric showers was launched in July 2012, and the range has seen strong initial sales, and so now the company has decided to expand its presence on the web to reach out to more customers.
Janet White, Gainsborough's Marketing Communications Managers says:
"While we have many customers who like to buy direct from us on our website, we also know that some of our customers prefer to use shopping sites such as Amazon and eBay to make their online purchases, which is why we have extended our product availability on these sites"
Both websites are established ecommerce sites in the UK, and offer many benefits for online shoppers. Customers using eBay have the security of paying via PayPal without having to enter their credit card details. They can also improve their feedback rating score with each purchase, particularly useful if they are also a seller on eBay. Those using Amazon can buy products using the site's 1-Click function – a quick and easy way to order with one click of a button.
Both shopping sites also have their own apps, allowing purchases to be conveniently made from smart phones or mobile devices whilst on the move.
Many of Gainsborough's other products, such as the ever popular electric shower SE range or the robust Ambassador mixer shower range, are already available on the two sites, and the company has plans in the near future to offer more spare parts as well as open an eBay shop to make purchasing much easier for their customers.
The GSX range comprises three electric showers, including the entry-level GSX, which features an easy-to-use manual rotary heat control. Upgrade to the GSX Plus model and illuminated push buttons replace the manual control and additional safety features are available. The top-of-the-range model, the GSX Deluxe, features an illuminated multi-function LCD screen, which provides instant feedback.
All three of the new showers are available in a gloss white and chrome finish with white and chrome accessories – a style to suit all types of bathrooms, whether contemporary or more traditional. Each shower is available with 8.5kW power rating, Gainsborough's most popular engine size, and four heat settings are offered on each model. Each shower is supplied with a three spray shower head. Prices start from £89.99 and full information on each shower model is available on the Gainsborough Showers website: http://www.gainsboroughshowers.co.uk
Company background
With over 40 years' experience in the UK domestic shower market, Gainsborough Showers offers a range of high quality and reliable showers at affordable prices. The company's mission is to make buying showers and spare parts online quick and easy. The company prides itself on excellent customer service, offering free delivery on all showers and spare parts, as well as expert advice from a UK based customer service department.