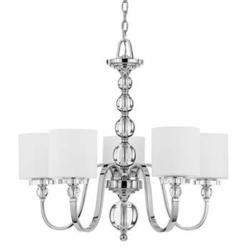 Timeless Designs
Riverdale, UT (PRWEB) October 30, 2012
Quoizel Lighting has been nominated as a finalist for the Pinnacle Awards. "The Pinnacle Awards both honor and recognize creative, relevant and original designs in home furnishings that push our industry to the next level," said John Conrad, vice president of the American Society of Furniture Designers and 2012 Pinnacle Awards chairman. This prestigious honor comes as no surprise for the New York-based Lighting Company.
They started as a small business in New York but have since transitioned to a large state-of-the-art 500,000 square-foot facility in Charlseton, South Carolina. Founded in 1930, they continue to provide excellent service and products and also continue to be a leader in lighting production. Quoizel offers a wide variety of products for indoor lighting including island lighting, tiffany lighting, mirrors, lamps, sconces, bathroom lights, mini pendant lighting, pendants, ceiling lights, under cabinet lighting, semi flush ceiling lights, chandeliers and figurines. They also offer a large selection of outdoor lighting products including many ENERGY STAR-rated fixtures.
Quoizel Lighting offers diverse collections for customers to choose from to ensure they can achieve any and every look and style. From classic lighting to contemporary lighting, Americana to exotic, sleek and modern to elegant and romantic, they offer a little something for every taste. Quoizel Lighting also offers numerous styles and designs with their unique and original collections. From the Abigail Adams Collection, which features the antique hurricane style lamps that have been featured since Quoizel's start back in 1930, to the sleek and contemporary outdoor wall lights from the Zephyr Collection; they have every look covered literally from A to Z.
Their Tiffany lighting selection is exquisite. Customers can choose from an assortment of products including lamps, pendants, sconces, chandeliers, and ceiling lights that feature the beautiful and elegant Tiffany glass that makes a statement in any room. One of many examples of this attractive style is the Museum of New Mexico Collection featuring gorgeous floor and table lamps inspired by Native American pottery, jewelry, and textile patterns.
Quoizel Lighting also offers a stunning selection of chandeliers. Quoizel chandeliers provides personality as well as functionality in kitchens, bedrooms, hallways, living rooms-virtually anywhere in the home. From the sleek and sophisticated contemporary Quoizel Downtown Chandelier DW5005C to the romantic and timelessly elegant Traditional Tricia Chandelier TCA5004VP, Quoizel Lighting has virtually every look imaginable when it comes to chandeliers.
Customers can also choose from many different styles outdoor lighting as well. Styles range from a traditional look found in the Georgetown Collection to the smooth and contemporary Petalo Collection and also includes many stylish craftsman looks such as in the Hillcrest Collection. Theyl also offers many of these fixtures as ENERGY STAR-rated to help customers save costs and consumption of energy usage.
According to their website, their motto is as follows: "At Quoizel, we create more than lighting and home accessories. We create timeless pieces designed with you in mind. We do this by avoiding trends and fads, by balancing form and function and by making our choices thoughtfully. This kind of dedication, integrity and quality not only goes into the design of our products, but it's in the way we do business as well. It's why we've grown from a small company to become one of the nation's leading manufacturers of fine decorative lighting and home accessories. We are Quoizel, and it is our promise to help bring timeless design into your home, while building lasting relationships along the way."
Looking at the variety, selection, dedication, and service they offer, it is easy to see why they are a finalist for this award.