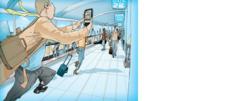 This app would track the distance, the route and the pace in real time.
Kent (PRWEB UK) 31 October 2012
Luggage Superstore has given a few other recommendations on travel apps in parts one and two in this series. Here are just a few more options to add to the choices of travel apps available on the techno mobile market.
Urbanspoon:- This is a free app that helps in choosing local restaurants. The idea spins off the slot machine concept where the town or city is entered and then shake the phone (or hit the space bar) and it will settle on a recommended local restaurant.
Maverick Pro: - This is an off-road GPS navigation app with offline maps. This one is great for hiking, boating-practically any outdoor activity. There is also a compass facility in this app and would provide multiple global and regional maps.
MyMapRide GPS Cycling: - this one is definitely for the cyclists. This app would track the distance, the route and the pace in real time. The route search feature would help in finding places to cycle and there is a filter to narrow down the search to the length of the route, or to look at elevation graphs or even look at a leaderboard.
Street View on Google Maps:- This is a simple one to use online with Google maps. The actual destination can be viewed by just dragging the little yellow man to the designated address. Close up house by house photos are available.Great, clear visuals are given with this online facility.
National Trust: - Great for finding a good place for a day out. This app will give choices from gardens, to coastlines to the countryside or historic places. Also available are clear images of each recommended place. Information on opening times, prices, directions and other important information needed to help make a decision on the best places possible.
Mobile apps can help to make your next journey much easier and even more organised.Take some time to have a look at the one that suits your needs best.
Luggage Superstore's established site is in West Kingsdown, Kent. Their aim is providing competitive prices of the highest quality luggage and top calibre Customer Service for online luggage shopping.
Trina Chee-a-kwai
Luggage Superstore
01474854666
Email Information