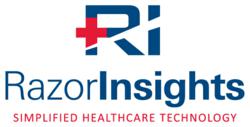 Not only are our hospital clients receiving incentive payments, they're adopting the most advanced technology available.
Kennesaw, Georgia (PRWEB) October 31, 2012
RazorInsights, a leading provider of IT solutions for rural, critical-access and community hospitals, has pledged to assist the Office of the National Coordinator (ONC) in achieving its goal of having 1,000 rural and critical-access hospitals adopt a certified EHR system by the end of 2014. The broader goal is to develop a nationwide health information exchange infrastructure, thus improving care quality and patient safety.
On September 26th, Mat Kendall, director of the ONC Office of Provider Adoption Support, and Leila Samy, rural health IT coordinator at ONC, released this joint call-to-action: "To realize this goal, we need all hands on deck. We need everyone rowing in sync, including leadership and staff in every critical access and rural hospital, EHR vendors, hospital associations and state offices of rural health in every state, Rural Health IT Network Development grantees, ONC grantees, and many more public and private, federal and local partners."
To encourage EHR adoption, incentive payments as provided by the HITECH provisions of the American Recovery and Reinvestment Act (ARRA) are being paid to providers who demonstrate effective use of a certified electronic health record system. An additional $30 million has been designated to state Regional Extension Centers (REC) in an effort to assist these rural hospitals adopt EHR systems and achieve Meaningful Use by the said date.
Reed Liggin, president of RazorInsights, is excited to be contributing 21st century technology to this underserved market. "As a relatively new company, launching in late 2010, our immediate focus has been on this exact hospital market. Not only are our hospital clients receiving incentive payments, they're adopting the most advanced technology available. Our solution, ONE, is delivered via the cloud with Clinicals and Financials offered on a single database. Realizing that more than 50 percent of care takes place in an outpatient setting, we are especially excited to be in the final development stages of our Ambulatory/Practice Management system."
RazorInsights is helping the ONC realize its goal by providing these targeted hospitals with an easy-to-adopt solution consisting of the following:

Low, all-inclusive monthly subscription (no software license to purchase)
90-day Implementation and Meaningful Use plan
System pre-built on industry-standardized content, e.g., FDB OrderKnowledge and HLI Provider Friendly Terminology
Cloud technology rendering seamless upgrades and eliminating the need to purchase and maintain costly servers
About RazorInsights:
Based in Kennesaw, Georgia, RazorInsights is a dynamic healthcare information technology company. In keeping with the principle of Occams Razor, they have created a simplified HIS solution for rural, critical-access, and community hospitals. Introducing ONE — a single-database, cloud solution offering a simple user experience with cutting-edge clinical tools and industry-standardized data. Hospitals can expect to improve their performance and bottom line with ONE from RazorInsights. For more information, visit http://www.razorinsights.com or call 770-308-4111.