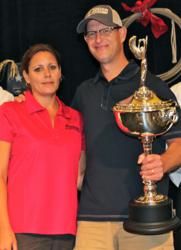 Most women don't know the great success and personal fulfillment that they can experience working in a trade business.
(PRWEB) October 30, 2012
October has been labeled National Women in Small Businesses Month by the Small Business Administration. This is a time to celebrate and honor women in small businesses for their hard work, cheerful spirit and contributions to the economy around the world.
Rainbow International is honored to recognize Christina Maillot for her positive outlook and dedication to the restoration industry as part of our Women in the Trades initiative. The Dwyer Group®, Rainbow International's parent company, launched the Women in the Trades initiative this year, which educates on and promotes the hiring of women for traditionally male-dominated roles in trades careers.
Christina and Dean, owners of Rainbow International® of Calgary, recently received the coveted Don Dwyer Award of Excellence from The Dwyer Group®, holding company of Rainbow International, during the 2012 International Convention last month.
For Christina and Dean, the award represents the most meaningful recognition and achievement. The award is a tribute to Don Dwyer, who began what would become The Dwyer Group in 1981 when he developed Rainbow International.
"Christina and Dean live their lives and lead their business by the code of values and principles my father created as the compass for this company," said Dina Dwyer-Owens, daughter of Don Dwyer and chairwoman and CEO of The Dwyer Group. "They go above and beyond to help their team, community and fellow franchisees."
Christina keeps tabs on the bookkeeping for their ever-expanding business and is on the committee of the Rainbow International R-Zees for R-Zees Outreach Program. The money from this fund helps Rainbow International franchisees that need assistance with travel expenses to attend various conventions.
"Most women don't know the great success and personal fulfillment that they can experience working as technicians in trade businesses or how opening a franchise business specializing in a trade can lead to viable, respectable career paths," says Christina.
More information about The Dwyer Group Women in the Trades program is available at http://www.dwyergroup.com/women-in-trades.asp.
About Rainbow International®:
Established in 1980, Rainbow International is a global franchise organization providing residential and commercial restoration and cleaning services. Recognized by Entrepreneur magazine among its "Franchise 500," Rainbow International franchisees offer a broad range of damage restoration services (ranging from water, smoke and fire damage to carpet and upholstery cleaning and deodorization) to more than 330 locations worldwide. The new Rapid Structural Drying Network of Rainbow International has established a network of elite water loss mitigation franchises across the United States. Rainbow International is a subsidiary of The Dwyer Group, Inc. For further information or to find the location nearest you, visit http://www.rainbowinternational.com.
###