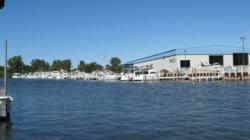 We're always looking for ways to advance our technicians' expertise and the ABYC is the industry's leading source for top-level technician training
St. Joseph, MI (PRWEB) October 31, 2012
Pier 33 Marina will be host to an upcoming marine technician training course provided by the American Boat & Yacht Council.
ABYC will present the Marine Systems Certification Course, February 26 thru March 1, 2013.
This course is one component of ABYC's Master Technician Certification program and is one of eight areas of marine technician certification available through the ABYC.
Pier 33 was selected as host due to its central location in St. Joseph, Michigan and the ability to provide classroom space for this four-day training course. The course will cover Potable Water Systems, Waste Water Systems, Tanks, Plumbing, Electrical Installation, System Monitoring, Compressed Gas Systems for cooking and heating, Hydraulic Systems, AC and Refrigeration Systems, and Pump Systems, plus ABYC standards and best industry practices associated with each.
"We're honored to be selected as a host facility for this course" said Pier 33 General Manager Tighe Curran. "We're always looking for ways to advance our technicians' expertise and the ABYC is the industry's leading source for top-level technician training".
ABYC's approximately 4,000 members include boat builders, boat yards, yacht brokers, marinas, service technicians, surveyors, retail marine stores, marine insurance companies, equipment manufacturers and boat owners. Both nationally and internationally, ABYC is the acknowledged authority that provides uniform standards to enhance marine manufacturing, maintenance, service and safety. In addition to writing uniform technical standards for the entire marine industry, ABYC has become a leader in education for marine industry professionals, technicians and boat owners by offering seminars, workshops, webinars, marine technician certification training and standards accreditation as well as numerous educational publications.
Marine professionals from throughout the region are invited to participate. The course is open to all interested marine technicians and is administered by the ABYC. Each participant will receive an ABYC Study Guide in advance and the Marine Systems Certification exam will be held on the final day of the course. Registration fees are $885 for ABYC members and $1,170 for non-members. For registration information or more details regarding this and other educational opportunities offered by ABYC, contact Sandy Brown: sbrown(at)abycinc(dot)org (410) 990-4460, X 101.
Pier 33 is a full-service marina and boat dealership. With a marina that includes over 200 docks, summer boat storage and service, winter boat storage and new boat sales through Chaparral, Pursuit and Scout, Pier 33 has a strong interest in marine technician training. "We have an ongoing plan for professional development for our staff" said Curran "and the opportunity to partner with ABYC for this course is a benefit not only to Pier 33, but for neighboring marinas and boat builders to enhance their training level as well".
Local lodging information and more information about Pier 33 is available at http://www.pier33.com/training.