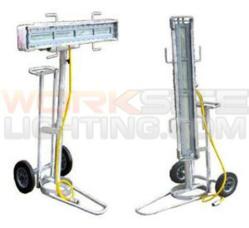 WorkSite is eager to attend ChemInnovations and walk away having grown through the experience.
Prarieville, LA (PRWEB) October 31, 2012
WorkSite Lighting, world leading manufacturer of hazardous location lighting, will be exhibiting at the ChemInnovations 2012 Conference & Expo on November 14-15 at the Morial Convention Center in New Orleans.
The 3rd annual ChemInnovations Conference is designed to bring chemical process industry professionals of all experience levels together. As the leading process industries event in North America, the ChemInnovations exhibition floor features the latest products, services and technologies for business.
"The ChemInnovations trade show presents WorkSite Lighting with the unique opportunity to reach out to a variety of industries that require the use of hazardous area customized lighting and power distribution products—environments where darkness and shadows create hazards and safety issues for those women and men working, as well as the hazard of explosions in volatile areas," Bill Matthews, CEO/Managing Member of WorkSite Lighting, said.
WorkSite Lighting will be exhibiting its wide range of lighting stands at Booth 2416, including stands specifically for use in hazardous locations. "WorkSite is eager to attend ChemInnovations and walk away having grown through the experience attaining a greater knowledge of our clienteles' special needs within the industry—putting our engineers to work for new products to fit those growing needs," Matthews said.
Attending the conference and expo for WorkSite Lighting will be: Alex Robeau, vice president of business development; Valerie Brown, director of marketing; Andrew James, product specialist; and John Marion, product specialist.
About Worksite Lighting
A manufacturer of explosion proof lights and portable power solutions, WorkSite Lighting is a service-disabled veteran-owned small business (SDVOSB.) WorkSite Lighting's extensive line of lighting products include explosion proof LED lighting, stand lights, vapor proof lights, spot lights, and off-shore ready light towers.
WorkSite Lighting also provides in-house consulting, design and engineering of custom lighting solutions for various industries including refineries/chemical plants, energy services, and the military. WorkSite has manufactured custom lighting solutions for NASA, the Department of Homeland Security (DHS), the U.S. Coast Guard, and Continental Airlines to name a few.
For more information about Worksite's lighting and power solutions stop by our ChemInnovations booth, Booth 2416, visit our website (http://www.worksitelighting.com) or call us at 888-792-1380.