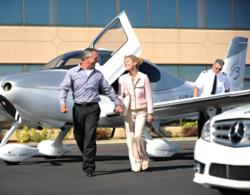 Air taxi is a convenient way for business or leisure travelers to reach their destinations in much less time
Atlanta, GA (PRWEB) October 31, 2012
JetCharters.com, the worldwide air charter marketplace, has announced that it now offers, through its large network of operators, a variety of affordable and efficient air travel options by way of air taxi.
"Air taxi is a convenient way for business or leisure travelers to reach their destinations in much less time than traditional air travel or driving," said Haroon Qureshi, director of public relations and sales for ImagineAir. "With companies like ImagineAir, a party of three could depart from Atlanta, visit Nashville and Knoxville and be back home in Atlanta before dinner. Whether the traveler is a business person seeking to attend meetings in several cities in one day or a vacationer going on a weekend getaway, air taxi is the best choice for affordable, efficient private aviation travel."
The air taxi concept involves smaller planes transporting passengers between local airports upon request. It grew out of a 2005 research and developmental program between NASA and the Federal Aviation Administration. Air taxi is now a booming industry with a steadily growing number of operators offering numerous travel options across the country.
There are many valuable benefits that air taxi offers travelers, whether they are traveling for business or recreational reasons. One benefit to air taxi travel is it allows travelers the opportunity to avoid major airports which often experience numerous flight delays and cancellations. Smaller airports are also less congested than major commercial hubs. Another important benefit to traveling via air taxi is that it allows passengers to visit multiple cities and towns in a single day. Other benefits of using air taxi include:

A way to travel shorter distances while avoiding busy highways and roadways
An increased amount of flexibility with travel schedules
An increased number of points of departure and arrival
This type of travel is especially beneficial to business people. Many corporations are currently using air taxi services in place of corporate jets as this is a more cost-effective way of transportation in today's economic climate. In these instances, Qureshi likens air taxi as "an extension of traditional corporate flight programs."
Often, small towns and communities are not conveniently located near a large airport, but air taxi opens up more travel options with smaller airports across the region. Another benefit to choosing an operator such as ImagineAir is that there are no repositioning fees and travelers only pay for the distance they travel.
ImagineAir and Kavoo are just two of the many licensed operators offering travel options through JetCharters.com. To learn more about possible travel opportunities via jet charters or to locate an operator, visit http://www.jetcharters.com/.