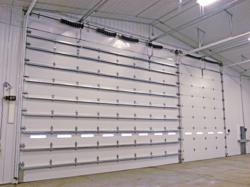 Arthur, IL (PRWEB) October 31, 2012
C.H.I. recently produced a video of the new commercial swing-up post. This video demonstrates the functionality and the versatility this new product has to offer.
Designed to allow two doors to be used to enclose an exceptionally wide opening (up to 50 feet wide), the new C.H.I. Swing Up Center Post is a "universal" center post allowing it to swing either left or right from a single pivot point as standard from the factory. Its design is leaner than most current designs making it easier to handle and install, yet it is still strong enough to handle commercial/ industrial loads. It features an easy to use positive floor latching system that is both strong and dependable. The video can be viewed on the C.H.I. website here.
C.H.I. Overhead Doors is a prominent manufacturer of high-quality Residential and Commercial Sectional and Rolling Steel doors. Started in 1981 in Illinois Amish Country in Arthur, C.H.I. has risen to become an industry leader in innovation and quality. A mix of hand-made craftsmanship and computer-aided precision join together to make C.H.I. Overhead Doors...The Door To Quality.
# # #