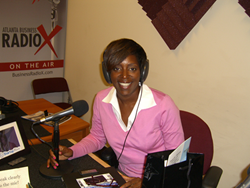 One of the key things for Constant Contact with us is email marketing.
Atlanta, GA (PRWEB) October 31, 2012
On October 29, 2012, BusinessRadioX®'s High Velocity Radio welcomed back to the studio Lanelle Henderson with Constant Contact. Henderson served as guest co-host, along with Lee Kantor, to interview a panel of Constant Contact clients about email marketing.
Lanelle Henderson is a Regional Development Director at Constant Contact. She is a marketing expert and passionate entrepreneur with more than 18 years of experience helping small businesses, non-profits and associations apply the power of relationship marketing to grow their organization. Henderson has worked with hundreds of Georgia entrepreneurs – ranging from novice to seasoned marketers – on how to grow their customer or member base through sharp business practices and smart online marketing programs, including email marketing, event marketing and social media marketing. An active member of the Georgia business community, Henderson is a popular speaker and trainer on marketing and business topics with a special interest in hospitality, community and education, and a focus on empowering women.
Joining Henderson in the studio was T.J. Liles, Director of Marketing and Franchise Support for Pigtails & Crewcuts, Melissa Pelfrey, Senior Manager and Independent Chocolatier in the Southeast for Dove Chocolate Discoveries and Jenny Lynn Anderson, author of "Room 939: 15 Minutes of Horror, 20 Years of Healing."
Henderson consults with Liles on effectively reaching his franchisees. "One of the key things for Constant Contact with us is email marketing," explains Liles. Liles handles many of the day-to-day questions that arise with franchise owners. In addition, he helps franchisees develop localized marketing plans, create brand integrity throughout the system and ensure a consistent Pigtails & Crewcuts experience.
Pelfrey's business operates as a home party business model. Henderson works with Pelfrey to craft emails to customers, announce specials, and use targeting campaigns to reach customers interested in particular products based on previous orders. Pelfrey explained she also uses Constant Contact to produce e-newsletters that she sends to her sales teams.
Anderson is a self-published author and appears for speaking engagements. According to Anderson, "My marketing and PR background are key to being successful as a self-publisher." She understands the need for digital marketing and social media to help spread her message. Anderson's goal is to not just sell books, but to educate, inform and empower people. She uses Constant Contact to build an email contact base for distributing her message and link to her blog.
To hear more details on how Henderson and Constant Contact work with these clients, please listen to High Velocity Radio.
About Stone Payton:
For over 24 years, Stone Payton has been helping organizations and the people who lead them drive their business strategies more effectively. He is a managing partner at BusinessRadioX® and the author of SPEED®: Never Fry Bacon In The Nude: And Other Lessons From The Quick & The Dead, and has dedicated his entire career to helping others produce better results in less time.
About Lee Kantor:
Lee Kantor has been involved in Internet radio, podcasting and blogging since he started the Dr. Fitness and the Fat Guy show in 2005. Since then, Lee has interviewed well over 1000 entrepreneurs, business owners, authors and celebrities on a variety of shows and at live events. In addition to his hosting duties, Lee is a managing partner at BusinessRadioX® and is committed to helping entrepreneurs and business owners in Atlanta learn how to use radio to dramatically grow their businesses.
About High Velocity Radio:
http://highvelocityradio.businessradiox.com
High Velocity Radio celebrates Top Performers Producing Better Results In Less Time. The show brings in business leaders and experts to talk about their methods and to help listeners develop the Competence, Confidence, and Commitment to Succeed With SPEED.
About BusinessRadioX®:
BusinessRadioX® provides a turnkey solution for business owners who want to leverage the power of internet radio to meet their best prospects, establish credibility for their organization and heighten the placement of their brand in search engines rankings. With a professional venue and a proven formula, BusinessRadioX® helps hosts podcast their shows and create a regular stream of dynamic content to share with their prospects and feed the search engines every week. Programs are recorded and streamed live to the internet from our studios in the greater Atlanta area. For more information or to hear a live show, visit: http://www.businessradiox.com.