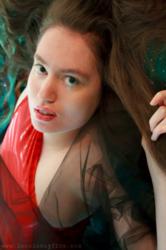 "The bottom line is, authentic expression heals. We are the cure we've been waiting for."
Cambridge, VT (PRWEB) October 31, 2012
Jocelyn Woods, 27, born with Spinal Muscular Atrophy (SMA), has launched a global fundraising campaign (indiegogo.com/ecstasyofacripple) and will pose nude and semi-nude before the lens of Atlanta-based photographer/artist Thomas Dodd to document orgasmic raptures experienced in what she describes as "erotic union with the flaming core of the Divine."
Woods, unable to stand or walk and requiring attendant care for daily living, is receiving global support and acknowledgement for declaring an unprecedented sexual revolution. Carl Barbarotto, author from Washington D.C., remarks "[Ecstasy of a Cripple] is mystic truth with those who have ears to hear and eyes to see."
Within days of launching the IndieGoGo campaign, a flurry of letters flooded in response to her call to raise $5,639 by November 4. "Voices rise up in praise across the earth," says Woods, "as the imprisonment and suppression of themes deemed 'taboo' are released. While society has established the trend of hiding disability behind closed doors, I prefer instead to use my crippled form as a vehicle of expression. The disrobing of my flesh is the proxy by which an international cry of freedom is being celebrated." Supporters include Playboy Model Alex van Zeelandt, Broadway legend and feminist Reverend Wanda Richert and New Pre-Raphaelite Movement founder Anna Louise May.
SMA is the number one genetic killer of children before age two. "Statistics are self-fulfilling prophecies held in place by societal belief systems," says Woods. "The bottom line is, authentic expression heals. We are the cure we've been waiting for."
"It is thrilling to see other women with disabilities embracing the beauty of our crippleness," says Maria Palacios, polio survivor, writer and performer of The Vagina Manifesto at Sins Invalid.
If the team reaches their funding goal on IndieGoGo, shooting of the project is planned for November and December, with fine art pieces delivered to sponsors by March 2013. Themes and titles will include the following: the crucifixion and resurrection of the divine feminine, incorruptible matter (mater), immortality, ascension, the fusion of life and death, "A Dance of Veils," "Maiden of the Apocalypse" and many more, all inspired and directed by Jocelyn's mystic encounters.
Dodd remarks in anticipation, "Jocelyn is a very unique and compelling individual and I am excited to be working with her on this project because, like me, she seeks to unravel that exquisite combination of the erotic and the divine in her work... I believe that the images we create will be bold, erotic, challenging and above all memorable." Mythological and religious themes abound in Dodd's work, sometimes with a twisted tongue-in-cheek approach, and at others reverently paying homage to the Old Master traditions that influence his vision. His new Erotica series will be his most explicit yet.
"Sexuality as currently defined by humanity is but a shadow of its true magic," muses Woods. "Suppression results in degeneration into perversion and the artificiality of pornography. When sexuality's dormant capacity is awakened, it reveals the divinity within humankind." 
Visit http://www.indiegogo.com/ecstasyofacripple to participate.
About the Artists:
Jocelyn Woods, 27, is a poet, mystic, artist and model. She lives in Cambridge. Due to SMA, she is unable to stand or walk, and has been semi-bedridden for 9 years, having experienced many excruciating illnesses on the threshold where life and death kiss, only to emerge with highly refined revelations and the passion to transmit them to her global brothers and sisters. Fans can follow her work on Facebook: facebook.com/ResurrectionofPassion 
Thomas Dodd is an Atlanta-based photographer/artist. Dodd's digitally manipulated artwork resembles paintings and contains a cohesiveness and attention to texture not usually found in digital art. His images never look assembled or computer-generated and he shuns the "cut and paste" clichés, preferring instead to assemble his scenery, costumes and models at the time of photography. Dodd's primary subjects are mythology and their relations to emotions and psychological states. http://www.ThomasDodd.com 
###