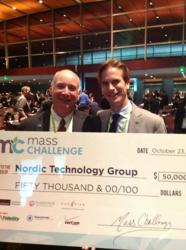 Nordic Technology Group is well positioned to help generations of Americans live longer and more safely at home.
Boston, MA (PRWEB) October 31, 2012
Nordic Technology Group has developed a breakthrough health-monitoring technology to ensure that seniors are safe in their homes. The MassChallenge gold award comes after four rounds of judging by experts, demonstrating that Nordic Technology Group is on the right track with its idea, potential and execution.
"Like many people, I live far away from my aging parents," says Erik Wernevi, Founder and CEO of Nordic Technology Group. "I got the idea for our service after a serious medical incident in my family. As I spoke to others, I realized that our family was not alone. In fact, many people have experienced serious incidents where a loved one has not been helped by existing technologies." He adds, "With our unique sensors and software, we are able to detect more urgent health problems, giving people the freedom to live longer at home."
Of the original 1,200-plus entrants to MassChallenge last May, Nordic Technology Group was one of the 16 finalist teams that won a cash award. "MassChallenge has been an awesome experience for us. The program, mentors and network turbo-charged our development. We have been impressed by the entrepreneurial ecosystem in Boston, at the heart of the health IT and medical device industries," says Wernevi.
The Nordic Technology Group team has been behind the technologies for Lojack and Lifeline, and have many years of software development, health IT, wireless and industrial design experience. VP Product Development Dr. Sheldon Apsell says, "Most existing technologies require the wearer to press a button in the case of an emergency. But in many situations, the user is unable, unwilling -- or unaware of the need -- to summon help. Our technology is designed for just these scenarios. It is like having someone who knows you, look out for you, at all times -- giving caregivers and family peace of mind."
Nordic Technology Group advisor, and Founder of Acquia, Jay Batson says, "I have been involved in a lot of start-ups, and as soon as I talked to Erik, I knew he was on to a big idea. The technology is powerful, and the market for seniors who want to live at home is big and getting bigger. Nordic Technology Group is well positioned to help generations of Americans live longer and more safely at home."
About Nordic Technology Group (NTG)
Nordic Technology Group (NTG) is a leading provider of healthcare technology solutions. NTG's health monitoring services allows caregivers to remotely monitor patient's health. NTG helps aging people maintain independent, active lives, and assure their families they are healthy and safe at home. NTG gives aging people freedom, and their loved ones peace of mind. Learn more at http://www.nordictechnologygroup.com
About MassChallenge
MassChallenge is the largest-ever start-up accelerator and competition, and the first to support high-impact, early-stage entrepreneurs with no strings attached. Over 300 expert judges contributed to narrow the field of 1,237 applications from 35 countries and 36 states down to the 125 highest-impact startups. Benefits for startups include:

4 month accelerator program – world-class mentorship and training, free office space, access to funding, media and more.
$1.1 million in cash awards - $9+ million of in-kind support.
Open to all – any startup can enter, from anywhere in the world, in any industry.
No strings attached – no equity taken and no restrictions applied.
President Obama honored MassChallenge in 2011 as one of the nation's best organizations for supporting high-growth entrepreneurs, and MassChallenge was the youngest inaugural member of the Startup America Partnership. MassChallenge metrics for the 361 startups it has accelerated since 2010: $360M+ in funding raised, $95M in revenues generated and 2,910 jobs created. You can read more about MassChallenge here: http://www.masschallenge.org/