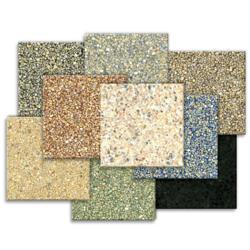 "Saint-Gobain's Grenite certification underscores the company's commitment in meeting the highest food safety standards," said Sarah Krol, general manager of NSF International's Food Equipment Certification Program.
Cleveland, OH (PRWEB) October 31, 2012
Saint-Gobain Performance Plastics has received "food zone" certification from NSF International for its Grenite® Engineered Stone Series. NSF International is an independent global organization that writes standards and tests and certifies products for the consumer goods, food and water industries.
"Saint-Gobain's Grenite certification underscores the company's commitment in meeting the highest food safety standards," said Sarah Krol, general manager of NSF International's Food Equipment Certification Program.
NSF International approved the use of Grenite as a table or countertop for "all food contact types" at a maximum temperature of 400 degrees Fahrenheit in the following Grenite colors: Raw (tan); Viridani (green); Rouho (red); Azulize (blue); Celebrity (black and tan); Birch Prada (beige); Cinario (light grey); and Java (brown). Grenite also has an NSF International "splash zone" certification, which means it can be used on surfaces that are subject to spillage, splash or other food soiling during operation.
"Now that Grenite is NSF Food Contact Certified, it is further proof that this engineered stone is just as safe, strong and sustainable as it is beautiful," said Diana Ohl, product manager, engineered stone at Saint-Gobain Performance Plastics. "Grenite retains its strength and allure year after year — even in high-traffic commercial areas that handle or prepare food, such as restaurants, specialty food stores, supermarkets and theaters."
Grenite is a sustainable alternative to materials such as laminates, solid surfaces, quartz and granite. Eligible for LEED® points through the USGBC, Grenite features the highest post-consumer recycled content currently available in the market — up to 85 percent.
Grenite has one of the highest abrasion resistances of all countertop materials and is impervious to fungi and bacteria, making it ideal for high-traffic applications in the retail, hospitality, banking, education, healthcare, entertainment and restaurant industries. Manufactured in the United States, Grenite is GREENGUARD certified, non-porous, durable, easy to install and does not require sealing.
The Grenite series will be on display at the 2012 Greenbuild International Conference & Expo, November 14-16 in San-Francisco, at Booth #4359N.
For more information about Saint-Gobain's Engineered Stone, visit http://www.engineeredstone.saint-gobain.com, email engineeredstone(at)saint-gobain(dot)com or call 330-298-3964.
About NSF International
NSF International is a global independent organization that writes standards, and tests and certifies products for the dietary supplement, food, water and consumer goods industries, to minimize adverse health effects and protect the environment (nsf.org). Founded in 1944, NSF is committed to protecting human health and safety worldwide. NSF is a World Health Organization Collaborating Centre for Food and Water Safety and Indoor Environment.
NSF International has developed national standards for commercial foodservice equipment and has been testing and certifying equipment to ensure compliance with these standards since its founding in 1944. Most state and local health departments require that food service establishments use equipment certified to these NSF standards.
Additional NSF services include NSF Education and Training, safety audits for the food and water industries, NSF Sustainability, organic certification provided by QAI (Quality Assurance International) and management system registrations delivered through NSF International Strategic Registrations (NSF-ISR).
About Saint-Gobain in North America
Saint-Gobain, the world's largest building materials company, has its North American headquarters in Valley Forge, Pennsylvania. As the world leader in sustainable habitat, Saint-Gobain is committed to inventing solutions to help professionals and communities around the world build and renovate comfortable, healthy, economical and energy-efficient buildings. The company has more than 265 locations in North America and approximately 19,000 employees, with more than 1,000 based in Ohio. In the United States and Canada, Saint-Gobain reported sales of approximately $7.7 billion in 2011.
Saint-Gobain's family of companies in North America includes CertainTeed Corporation, as well as Saint-Gobain Abrasives, Saint-Gobain ADFORS, Vetrotech Saint-Gobain North America, Saint-Gobain Glass, Saint-Gobain Solar and Saint-Gobain Performance Plastics.
Recognized as a 2009 and 2010 ENERGY STAR® Partner of the Year by the U.S. Environmental Protection Agency, Saint-Gobain earned the 2011 ENERGY STAR Sustained Excellence Award, the highest level of recognition for outstanding contributions to protecting the environment through energy efficiency. For information about Saint-Gobain in North America, visit http://www.saint-gobain-northamerica.com.
About Saint-Gobain Worldwide
Saint-Gobain headquartered in Paris, is the world leader in habitat markets – providing innovative solutions to meet today's challenges of growth, energy efficiency and environmental protection. With 2011 sales of $56 billion, Saint-Gobain operates in 64 countries and has nearly 190,000 employees. For more information about Saint-Gobain, please visit http://www.saint-gobain.com.
About Grenite
Grenite® is a Registered Trademark of GSS, LLC and is manufactured under license by Saint-Gobain. GSS is a privately held development and custom manufacturing company focusing on the creation of sustainable composite materials for use in the building, retail, theatrical/thematic, and general commercial and residential markets. With domestic and international marketing capacity, GSS provides products and services to many of the largest companies in the U.S. The company is headquartered in Metuchen, New Jersey, with R&D and custom molded manufacturing facilities in Los Angeles and sales offices worldwide. For additional information visit http://www.grenite.com.