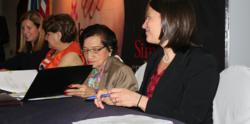 We want to improve cervical cancer prevention programs in El Salvador to prevent women from suffering from this preventable disease
San Salvador, El Salvador (PRWEB) October 31, 2012
Representatives of the Salvadoran Ministry of Health, Basic Health International and MD Anderson Cancer Center attended a symposium held in El Salvador entitled "Current updates in Cervical Cancer Prevention." To inaugurate the event, each party signed an agreement to work together for the development and exchange of clinical programs, educational, prevention research to eradicate cervical cancer in El Salvador.
Those present at the event included: Minister of Health of El Salvador Dr. Maria Isabel Rodriguez, the Vice-Minister of Health Dr. Violeta Menjivar, Miriam Cremer, President and Founder of Basic Health International, and Kathleen Schmeler, representative of MD Anderson Cancer Center at the University of Texas. The symposium was the first event as part of the agreement signed between the three institutions in order to support education and research in the field of cervical cancer in El Salvador. Also, the partnership seeks to create research and training programs that help prevent cancer and increase users' access to cancer treatments.
"We want to improve cervical cancer prevention programs in El Salvador to prevent women from suffering from this preventable disease," said Miriam Cremer. Kathleen Schmeler, representative of MD Anderson Cancer Center, stated "our role is to conduct research and train professional health personnel to enable them to improve care for cancer patients in El Salvador."
Other benefits of the agreement include the opportunity for Salvadoran Ministry of Health clinicians to visit MD Anderson Cancer Center through an "observership" program. The agreement extends through 2017.
About BHI
Basic Health International (BHI) was founded in 2005 with a mission to eradicate cervical cancer in Latin America and the Caribbean. We utilize our expertise in women's health to provide clinical training, research and public policy guidance in the field of cervical cancer screening and treatment, particularly for women in low-resource settings. Our offices are located in New York City and San Salvador, El Salvador.