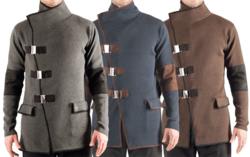 It's all in how it feels against the skin which in turn gives it its character
West Palm Beach, FL (PRWEB) October 31, 2012
The excitement of fall, everything seems to take a new direction, a fresh perspective is the call of the day! A new array of colors and textures suddenly becomes available and nothing spells "comfort" like fall clothes. FashionMenswear declares autumn as the season for a renewal.
The colors for fall are lush and rich golds, browns, burgundies and rusts. Gone are the bright colors and floral patterns that characterize summer menswear. Fall is a time for subtler colors like olive, navy, and gray. While those may be the mainstays, there are still ways to incorporate a bit of pop in your wardrobe, like – small floral print shirts under blazers or jackets, or opting for something more offbeat. The newfound textures are corduroy, tweeds, wools, knits, flannel, cashmere, leather, jeans. "It's all in how it feels against the skin which in turn gives it its character," remarks Giovanni Marquez, CEO of FashionMenswear.
"Buy your basics in any of these timeless shades and just a few accessories in richer in hues to accent like a scarf or some jewelry (no more than two matching pieces of jewelry at a time please). For a happening look, give the world just a splash of color by wearing busy shirts under a blazer or a jacket". The mens clothing expert added. Going out for a "fancy" night out on the town? Try a sharply tailored jacket in a dark neutral fabric. Layer it with a matching vest for added warmth and visual interest. Which brings us to the blazer. It's the Swiss knife of mens dressing.
You can mix and match it with tops and bottoms, dress it up or down all the while sporting a very flattering silhouette. A well-cut blazer, a staple item in menswear is the ultimate must-have. Choose your blazer properly, and you should get a ton of mileage on it due to its versatile nature.
"If you can only afford one blazer, shirt jacket or sweater coat, make it a more conservative cut and a neutral color" says Giovanni Marquez, CEO of FashionMenswear. "You can always perk it up with a bold accents (or two)" he pointed out.
A few ways to wear it: Printed t-shirt plus blazer left open dress shirt plus cardigan plus blazer scoop neck t-shirt plus shirt left opened plus blazer t-shirt plus hoodie plus blazer consider the scarf. There's no easier way to complement an outfit than with the right scarf, after all they take up considerable visual weight and they frame your face. And, of course, there's always the tie.
There is no better way to get people guessing where you're going, or where you're coming from, than to wear a tie (when you don't have to). A low profile knit tie or a bold patterned tie will definitely add another layer of interest.
Last but not least, whether it's boots (a fall requisite) or shoes the colors are definitely earthy: cognac, caramel, eggplant.
Whether you are looking for Italian craftsmanship and style in footwear and accessories, or the finest in mens clothes, FashionMenswear is always traveling the world to bring our customers the latest in mens fashion and footwear ensuring they look their best. From formal suits to sneakers and everything in between, the staff at FashionMenswear.com and GiovanniMarquez.com is uniquely qualified to assist its customer base with their mens clothing and mens footwear needs.
At fashionmenswear.com our mission is to deliver style, one customer at a time.