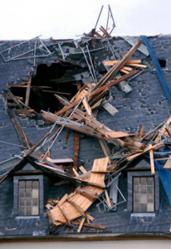 Organizations such as the BBB, the National Roofing Contractors Association or many manufacturers' certifications (such as GAF Materials and OC) are a good ways to judge the reputation and validity of the roofing company
(PRWEB) October 31, 2012
Reroof America Contractors, has been a roofing contractor for the past 33 years has completed over 60,000 roofs in 16 different states. Many of these roofing projects were completed in hurricane prone areas, so suffice it to say… Reroof America Contractors has learned a thing or two about hurricanes and storm damage repair over the years.
After the storm, there are immediate safety conditions that are of utmost importance. The critical dangers include, washed out roads, contaminated buildings, down power lines, contaminated water, debris in roadways, debris lodged in homes and other freestanding structures, gas leaks, broken glass, damaged electrical wiring, and slippery floors. Often times it can take days to weeks for power to be restored to a hard hit area.
The first responders to hurricane catastrophe are typically the America Red Cross and the Federal Emergency Management Agency (FEMA). These organizations typically help with the immediate health and safety issues that result from hurricane force winds and flooding.
Following the removal of the primary hazards, damage assessment and reconstruction can begin.
The type of roof you have will factor in to the amount of damage to which you are susceptible. For example, gabled roofs are more susceptible to damage from a hurricane force winds. A gable roof looks like an "A" on the ends with the outside wall going to the top of the roof. The edge of the roofline is called the rake edge and can be the most vulnerable area. Other issues with gable roofs can be the potential uplift to the roof sheathing and subsequent damage to the roof trusses, which hold the roof together. Other roof styles are not free from damage danger from hurricane force winds; however, the quality of the initial roof installation plays the largest roll in the amount of damage. A complete understanding roof systems and types can be found at reroofamerica.com under the residential roofing tab.
The two main issues with post hurricane roof repair are:
A. Selecting a contractor
B. Roofing selection
Guidelines To Selecting A Building Contractor– The type of contractor that you select to help repair your home will primarily depend on they type of damage to your home. Your insurance carrier will assign an insurance adjuster who will be the coverage expert on your home. For detailed insurance information and tips on coverage terminology, you can visit http://www.reroofamerica.com and select the insurance information tab. Many insurance carriers also have recommended contractors like Reroof America Contractors who are insurance repair experts. While your carrier does not require you to use their contractor, realize that your carrier recommends them for many reasons such as:

Thoroughly background screened
Trained and OSHA compliant installers
A proven track record of customer service.
Most insurance recommended contractors carry well above minimum levels of general liability insurance and workers compensation insurance, which is a necessity of any contractor working in insurance related repairs, especially in a disaster situation. In addition your insurance carrier or a third party administrator may back the contractors' workmanship.
Other organizations such as the Better Business Bureau (BBB), the National Roofing Contractors Association (NRCA) or many manufacturers' certifications (such as GAF Materials and Owens Corning) are a good ways to judge the reputation and validity of the roofing contractors in your area.
In many states, there is a licensing board that requires verifying levels of competence from contractors; some allow contractors to merely pay a fee, while some require strict testing and insurance compliance. Check with your state licensing agency. You should never use an unlicensed, uninsured contractor. Finally, never pay any money out of pocket until the work is complete. This last point is one of the largest sources of construction scams.
Tips on products and programs to help your home survive the next hurricane:
Building Code Compliance – You local building code and that of the International Residential Code (IRC) and/or the International Building Code (IBC) dictate the construction requirements for all types of construction including framing and roofing. The local codes will vary from state to state and are likely more stringent in hurricane prone areas of the country. You will want to be able to discuss the code requirements with your contractor as well as doing some research, as most of the information is available on-line.
Roofing Selection – There are many types of roofing systems available, and most of which have applications for wind resistance and offer wind warranties (remember, these are not hurricane warranties). Your primary decision as to the roofing type that you select for your home can be the aesthetics of the roofing. If your insurance company is paying for your roof to be replaced, then you will have some options depending on whether or not you want to change the look of your home and upgrade to a different style of roof. Once again, your roofing contractor should be able to help you by offering several different styles of roofing, based on the area in which you live, the style of your home and your out of pocket budget. However, like many homeowners, a disaster is not something you planned for, therefore replacing your roof to its previous style may be the best option and choosing a roofing contractor like Reroof America, that installs full roofing systems to code and manufacturer specifications is critical.
Final recommendations on hurricane readiness safety and repairs from Reroof America Contractors include:
1. Plan ahead… there are plenty of warnings and time to be proactive when it comes to hurricanes
2. Follow directions… from local authorities and keep safety your first priority
3. Do your homework… when it comes to repairs and choosing the right contractor for any insurance or otherwise damage related repairs
About Reroof America
Reroof America Corporation is owned and managed by J.R. Emrich, President. The company's began in the roofing industry in 1979. J.R. Emrich and his companies operate debt free and utilize multiple suppliers in several states. Bonding capability is up to 4 million dollars. The Dun and Bradstreet credit rating for the company is 1R2 and the D&B # is 83-696-7372.
Reroof America is based out of Edmond, OK, having completed over 60,000 roofs in over 16 states over the past 33 years.
Reroof America's primary business is residential roof replacement; however several locations have commercial roofing divisions, window divisions and offer other residential construction solutions. Reroof America is fully licensed and insured in all states within which it operates, and is a member of NRCA, BBB and multiple local and regional associations.
For Information About Reroof America Contractors, Reroof America Corporation, Reroof America Management, or Metro Roofing, contact Mark Lenzer at: 800-755-3530 or mlenzer(at)reroofamerica(dot)com or follow reroofamerica on facebook, twitter or Google+.