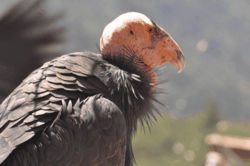 Oakland, CA (PRWEB) October 30, 2012
Beginning in fall 2012, Oakland Zoo is linking up with the California Condor Recovery Program to help rehabilitate sick or injured condors. Within recent months, a holding facility was constructed on Zoo grounds and Veterinary staff members were trained in proper procedures for treating lead poisoned birds.
This new partnership is significant because ill birds found in Big Sur or Pinnacles National Park can now be transported to a wildlife hospital that is much closer in proximity. Prior to the new partnership, the nearest Veterinary hospital for condor care was the Los Angeles Zoo, which is also a participant of the Condor Recovery Program.
"Our vision is for condors to one day no longer need veterinary care but until then we know that the Oakland Zoo will be a great addition to the condor program," said Kelly Sorenson, Executive Director of Ventana Wildlife Society.
The 900 square foot size building at Oakland Zoo was constructed to provide an isolated area for sick birds, where they can rest and recover, while being quarantined from the Zoo's resident animal population. This facility along with the Zoo's new Veterinary Hospital will help veterinarians, like Dr. Andrea Goodnight, take part in hands on conservation efforts to save California's condor from extinction.
"Since the 1980's, the California condor has been extensively managed in order to return from the brink of certain extinction," said Dr. Andrea Goodnight, Associate Veterinarian at Oakland Zoo. "As a child growing up on the East Coast in the 80's, I learned about the plight of the condor; the story remained with me and most certainly influenced my choice to become a zoo veterinarian. It is a dream come true that now I am able to contribute to the continued recovery of this magnificent species."
Along with teaming up with the California Condor Recovery Program, Oakland Zoo has installed a Condor webcam in its new holding facility. With funding generously donated by FedEx and a camera supplied by Camzone, Oakland Zoo and the California Condor Recovery Program will be able to monitor and evaluate birds being rehabilitated, without disrupting them. An added bonus to the webcam is that the general public will also have access to watch the webcam via Oakland Zoo's website, http://www.oaklandzoo.org.
"We at FedEx are proud to help protect these magnificent endangered birds and safely increase their visibility to the public," said Robin Van Galder, managing director of the FedEx Express Oakland Hub. "We salute the Oakland Zoo and the California Condor Recovery Program for helping them spread their wings."
"Camzone, a leader in high definition webcam streaming, was founded in 2002 and owes its success to the popularity of live streaming animal cams, said Steve Walker, Vice President of Business Development at Camzone." "With 24/7 high definition webcam access to view California condors, everyone has the opportunity to see these majestic creatures. By engaging people with these endangered birds an opportunity exists to educate the public about the changes that are needed for the condors to thrive. What an honor to be part of such a noble project, leveraging live streaming technology to ensure these birds will be around for generations to come."
In 1987, the last wild California condor was taken into captivity to join the 26 remaining condors, in an attempt to bolster the population through a captive breeding program. Through the effort of California zoos and the Ventana Wildlife Society, 50 condors have returned to the wild in Central California. Currently, there are only about 231 California condors in the wild, but that number is more promising. For more than twenty years, Ventana Wildlife Society has made it a mission to save the bird from extinction by regularly trapping and treating condors suffering from high blood levels of lead. Prompt treatment has saved the lives of several birds in the flock. They monitor nests to ensure the greatest protection possible from potential threats to productivity.
Creating a conservation partnership with Ventana Wildlife Society has become very important to the Oakland Zoo. In an effort to demonstrate the Oakland Zoo's involvement with the California Condor Recovery Program and commitment to saving the Condor from extinction, Managing Director, Nancy Filippi, filmed and produced a video that explains the plight of this majestic bird and the efforts being put forth right now by organizations throughout California to research, recover, and expand the population of North America's largest flight bird, which has a wingspan of 9.5 feet.
"The alliances have been formed, the conversation and collaboration has begun," said Nancy Filippi, Managing Director at Oakland Zoo. Oakland Zoo, Ventana Wildlife Society, FedEx and Camzone will present the California Condor Recovery Program information updates via live streaming cameras and web based content. These alliances will shed light on the California condor recovery efforts, medical rehabilitation and therapy for these endangered birds.
To learn more about this partnership and watch a video, go to http://www.oaklandzoo.org and click on the webcam tab or go to this link: http://www.youtube.com/watch?v=7Bhm3k_OINA&feature=share&list=UUCDsJ9prIx28MVLRUaL2b1w
ABOUT OAKLAND ZOO:
The Bay Area's award-winning Oakland Zoo is home to more than 660 native and exotic animals. The Zoo offers many educational programs and kid's activities perfect for science field trips, family day trips and exciting birthday parties. Nestled in the Oakland Hills, in 500-acre Knowland Park, the Zoo is located at 9777 Golf Links Road, off Highway 580. The East Bay Zoological Society (Oakland Zoo) is a nonprofit 501(c)3 organization supported in part by members, contributions, the City of Oakland and the East Bay Regional Parks. For more information please visit our website at http://www.oaklandzoo.org.
ABOUT THE CALIFORNIA CONDOR RECOVERY TEAM:
The U.S. Fish and Wildlife Service California Condor Recovery Program (Recovery Program) is a multi-entity effort to recover the endangered California condor. Cooperators include the U.S. Forest Service, San Diego Wild Animal Park, Los Angeles Zoo, Oregon Zoo, Oakland Zoo, California Department of Fish and Game, the Peregrine Fund, Ventana Wildlife Society, the Center for Scientific Investigation and Graduate Studies in Ensenada, La Secretaria de Medio Ambiente y Recursos Naturales (SEMARNAP), National Park Service at Pinnacles National Monument, Santa Barbara Zoo, the Chapultepec Zoo in Mexico City and many others. The Recovery Program is currently focusing its efforts on the captive-breeding and reintroduction of California condors to the wild in the hopes of establishing a self-sustaining population.