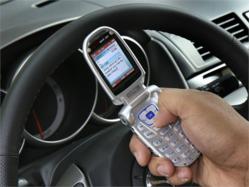 Distracted driving creates terrible dangers for drivers, passengers, and innocent victims.

Sonoma, CA (PRWEB) October 31, 2012
Students from three Sonoma high schools participated in an exercise designed to teach young people the dangers of distracted driving. The event was held at the Sonoma Raceway and sponsored by St. Joseph Health of Sonoma County, Farmers Insurance, the Simraceway Performance Driving Center, and the California Highway Patrol.
Seven students participated in an exercise that involved making high-speed lane changes and listening to in-car instructions while texting, adjusting music, and opening the car's sunroof. Participants were monitored by in-car instructors to prevent injury. Students were surprised to learn how hard it was to control the car when engaged in other activities and how quickly they could make significant errors while driving with distractions.
Distracted driving creates terrible dangers for drivers, passengers, and innocent victims. According to the National Highway Traffic Safety Administration, more than 3,000 people died and more than 400,000 were injured in distracted driving accidents in 2010. For young drivers, at least 11 percent of all fatal accidents involve some form of distracted driving.
John Demas, Sacramento car accident attorney, of Demas Law Group, P.C., notes, "Distracted driving has become an epidemic, especially for young people. However, adults are also guilty of this dangerous behavior. Cell phones and handheld devices take much of the blame, but talking, eating and drinking, smoking, changing the station on the radio, and other distractions also contribute to the problem. Many people have been killed in accidents because they took their eyes off the road for two seconds to attend to something else. Even more tragically, many innocent people have been killed by distracted drivers."
Mr. Demas goes on to note, "The Sonoma distracted driving exercise is useful because it gives teens a first-hand look at what distracted driving can do and how easy it is to be involved in an accident. This is the age group that needs to hear this message the most. Teenagers are often reluctant to listen to adults. Having such hands-on experience about the causes and effects of their actions may have more of an impact on their decisions. By educating drivers at a young age, the next generation may learn how to avoid the deadly accidents that are plaguing our society."
About John Demas
John Demas is Sacramento personal injury attorney with the Demas Law Group, P.C., and represents victims of personal injury such as vehicle and pedestrian accidents, slip-and-fall injuries, dog bites, and product liability issues. Demas Law Group can help Sacramento accident victims recover damages for their injuries to pay for medical care, living expenses, and to compensate them for pain and suffering resulting from personal injury.
Attributes: Who Won, "Northern California Students Illustrate Dangers of Distracted Driving in Sonoma," John Cardinale, October 24, 2012.
National Highway Traffic Safety Administration, "Distraction.gov" website.