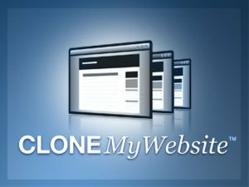 Las Vegas, Nevada (PRWEB) October 30, 2012
Just about everyone wants their website to look great and their web pages to rank on top of Google, but a very few manage to do it; learning from past mistakes of Internet marketers, CloneMyWebsite.com has launched a unique web design cum marketing campaign to help the business owners grow their business online and market money on the Internet
There are literally tons of web design and marketing firms out there in the market, but very few manage to stand out of the lot, and CloneMyWebsite is certainly one of them. More often than not, the firms that manage to get the eye-balls rolling and bag hundreds of orders aren't necessarily the ones who've got a big marketing team, but rather those who've got something unique to offer. So, what is it that makes CloneMyWebsite services so special; well, there are more than a bunch of reasons to it.
Get a Free Copy of CloneMyWebsite.com's marketing strategy here.
What Sets this Service Apart?
The parent company 'Call to Freedom International' has helped thousands of small business firms and clocked over $23 million revenues over past 7 years of operation, which goes to show that they indeed mean serious business. Their new design and marketing service has been formulated based upon the master-print followed by the most successful internet marketers, which essentially brings years of knowledge.
In short, since the founder of the company has terrific experience in successfully generating millions of sales, it makes perfect sense that his program would facilitate others in learning from his experiences, and avoiding the same mistakes that he had committed over the years.
CloneMyWebsite offers a unique combination of web design, online marketing and business services that have never been provided by any other company so efficiently. This not only makes it an enticing proposition, but the best part is that one can download the master-print of their program absolutely free of cost!
Those in need of top notch Internet marketing services must consider visiting their website and downloading their report to be able to rectify their mistakes, and follow the path of success with zero learning curve.
CloneMyWebsite offers a seamless way for a beginner-level Internet marketer to build a professional-looking website in a matter of few minutes, without taking the pain of hiring a web programming or a webmaster to manage things. Everything that one could have ever wanted in a website has been integrated in their packages ranging from Facebook Integration, custom menus, landing pages, events, offers, product launches, and even the ability to effortlessly configure it with any 3rd shopping cart system!
It also allows the customers to integrate their website with GetResponse, AWeber & other Direct Response Services in a jiffy. Even the advanced functions ranging from Tracking and analytics, recognized professionally designed and tested landing pages, opt-in and sales funnel pages, squeeze pages, down to scheduled content release options are offered as a part of their package too.
But, the most impressive part is their enticing prices that start from just $19.95/month for 1 CloneMyWebsite™ single site license, not to mention their 30 day money-back guarantee!
Find out more about their enticing offerings on http://www.clonemywebsite.com