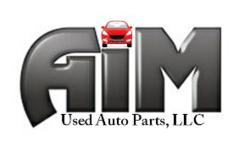 Buying used auto parts not only saves 50-90%, it is considered green recycling.
Riverview, Florida (PRWEB) October 31, 2012
AIM Used Auto Parts, an international provider of used auto parts, has signed on to expand its already substantial coverage of automobile engine and transmission sales around the globe. AIM Used Auto Parts sells used automobile parts locally in the Tampa Bay area, exports used auto parts to South America, and has expanded to the growing internet market.
With the help of secure internet portals EBay, PayPal, and their own catalog website at http://www.AIMuap.com, AIM is looking to improve the functionality of their website along with quality and costs for the consumer. AIM Used Auto Parts believes the used auto parts business has reached a new recognition in the automobile industry and they are excited to be a part of it.
The owner pointed out that buying used auto parts not only saves you 50-90% in costs, used parts are GREEN. Used car recycling is the most efficient kind of recycling around with 75% of a car being recycled (steel, alum, plastic, etc.) This towers the recycling of aluminum cans (61%), paper (30%), and glass (20%). Buying used parts keeps reusable items out of our landfills, cleaning the planet one car at a time.
AIM Used Auto Parts has had continued success in addressing the needs of used auto parts nationwide, has been inspired to continue selling recycled auto parts, and is very excited to grow and move forward.
Visit their website for more information.