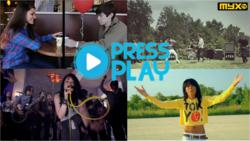 Every week, we find more artists whose music raises the industry bar.
Redwood City, CA (PRWEB) October 30, 2012
This week, nine artists from California, Minneapolis, New York, New Jersey, and Florida compete for the top spot on Myx TV's Press Play's fifth episode. The independent music artists represent genres from alternative to beatboxing. The most votes online translate into a national TV premiere of the artist's original music video and an in-studio performance at the Myx TV studios in California. The polls are open from October 29 til November 5, 12pm pacific time on Myx TV where the winner takes all, headlining the episode that airs on December 7.
This week, independent artists and songwriters remind us that shoestring budgets are no hindrance to the creation of radio-friendly music and cutting edge music videos like FREQUENCY 5 of Huntington Beach, California whose single "The Perfect Girl" lends their rock electronic sound. San Jose's Sheryl Ann Padre's music video for "Distant Romance" reminds us what great vocals and songwriting are like.
Press Play has opened the stage to newcomers and industry veterans alike. San Franciscans Seeking Empire brings their track "Fairytale" to the list of contenders for the show's fifth week. Celebrities in their own right, Seeking Empire boasts of a stellar line up of band members including bass guitarist, Paul Thomas, of the triple platinum American pop punk band, Good Charlotte, who has landed appearances on American Idol, The Today Show, and the cover of Rolling Stone. This week, "Fall Asleep" artist Danté of Brooklyn, New York also shared a stage with R&B singer Trey Songz as his opening act.
Standing out in the business is often determined by what makes an artist unique. Minneapolis 5-piece pop/pink alternative rock band All The Right Moves uniquely infuses the elements of piano, violin, and three-part vocal harmonies in their single "Choke." Meanwhile, acoustic hip hop artist from Los Angeles, Paul J. Kim, with single "Run Fly Fall" does something few artists do: beatbox. His unique sound also brings him to London for the first time to perform this year.
Mitchell Grey of New Jersey racked up 11,000 miles by ground traveling to perform in their first year alone. The indie R&B group debuts "Heartstrings" on the network. "We've developed a reputation not only in the YouTube community but even the local music scene in New York City," they quipped. Mitchell Grey has headlined and sold out at venues like The Studio at Webster Hall in Manhattan.
Check out West Palm Beach, Florida's The Outsiders We Want In. The hip hop R&B artist throws in "Swagger on Another Level" while Fremont-based The Shawn Megofna Band bring reggae flavor to the week's roster with "That Brown Boy." The 2011 Kollaboration showstopper says, "Our music is unlike any other."
"Every week, we find more artists whose music raises the industry bar," says Anthony Garcia, Head of Production for Myx TV. "As a network committed to great entertainment and opening up more space for independent artists, we are proud to say that you get to hear their music first on Myx TV."
Vote for your favorite artists on Myx TV where you decide who gets played! Log onto http://www.myx.tv for more details.
##
ABOUT Myx TV®:
Myx TV is the premier Asian American entertainment and lifestyle cable network in the United States. Dedicated to airing the best in entertainment, Myx TV's programming is a unique combination of original and syndicated shows, including magazine talk shows, interactive music video countdowns, independent film and Asian cinema, and animation, airing 24/7 in English. Broadcast in over 10 million households across the country it provides a platform for Asian Americans on mainstream television and is also represented on its official website by a community of bloggers from coast-to-coast. To find Myx TV in your area and for exclusive content online, visit http://www.myx.tv.