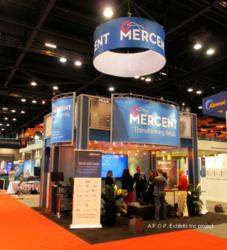 Los Angeles, CA (PRWEB) October 31, 2012
Because of the ongoing popularity of Trade Show Truss Displays, P.O.P. Exhibits Inc is adding new design options for both their rental clients and businesses planning to purchase. Within the last two years the company has already added portable, light weight truss displays and a new truss double deck exhibiting system to it's portfolio and views this as a good time to introduce new design combinations.
Truss Display Systems have, of course, been around for decades. Large, heavy duty truss has been used by studios for years to support boom lights that can weigh hundreds of pounds. In the 1990's, in response to the growing market for modular display systems, new manufacturers began to focus their attention upon the trade show industry. These truss exhibits immediately became a big hit because of their strength and the ability to support weight. In addition, truss towers began to replace plywood for companies wishing to gain height.
P.O.P. Exhibits Inc. is responding to a broad array of client exhibit design preferences. Some businesses are attracted to a truss display look even though they have no need for a weight bearing display. Portable truss is perfect for them in that it becomes more decorative in the booth but still packs conveniently into portable shipping cases.Truss systems first introduced in the 90's still work because of the fact that they've been adapted to work with dye-sublimated fabric and that they are so modular. Slatwall panels and internal shelving enable truss to display a wide variety of products.
At the same time, because of a focus upon larger island exhibits and trade show exhibit rentals in places like Las Vegas, Los Angeles and Anaheim, less attention has been paid to in-line exhibit kit design. That's what is changing. New standard designs make it easier for a web site visitor to visualize for themselves what might work for their business. All exhibit companies welcome phone calls and requests for project design but not all visitors want to call for fear of obligation. In this sense this represents a return to basics for P.O.P. Exhibits Inc.
P.O.P. Exhibits Inc., has been around since 1995. We've been selling and renting trade show exhibits for many years. Our primary rental venues are in Anaheim, Los Angeles, San Francisco and Las Vegas in the west. The company also specializes in custom exhibit design. Clients include Alaska Air, Amazon.com, Absolut Vodka, AOL, British Airways, Motorola, Pepsi and NASA.
P.O.P. Exhibits Inc. is introducing new Truss Exhibit designs in order to make life easier for companies wanting to get a quick look overview as to what's available. With so many time consuming custom rental projects in recent times, this represents a return to basics and to paying attention to smaller companies looking to step into the realm of trade show exhibiting.
Contact:
P.O.P. Exhibits Inc
Wes Carlson, President
800-880-6498 or email design(at)popandexhibits(dot)com