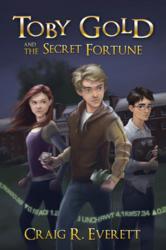 The most important thing, though, is that young people get as much exposure to these critical financial literacy concepts as possible.
Thousand Oaks, CA (PRWEB) October 30, 2012
After its release just over one week ago, Toby Gold and the Secret Fortune, a youth financial adventure book by finance professor Craig R. Everett, has received glowing reviews from a wide variety of sources.
"It's very exciting to be getting such positive feedback," stated Craig R. Everett, associate director of the Private Capital Markets Project at Pepperdine University's Graziadio School of Business and Management. "It's particularly gratifying that the book became a top ten bestseller in its category on Amazon.com during its first week on the market. The most important thing, though, is that young people get as much exposure to these critical financial literacy concepts as possible."
This contemporary fantasy – for kids ages ten and up – incorporates such financial literacy topics as: saving, investing, banking, entrepreneurship, time value of money (interest rates), return on investment and net worth. Toby Gold and the Secret Fortune has been widely reviewed by literary critics as well as by parents, educators and homeschoolers on their blogs. The following excerpts are a sample of the reviews:
"Unique children's lit that cleverly tackles interest rates, endowments, fluctuating commodities, bullying and identity." - Kirkus Reviews
"The book is exciting enough that kids will inhale the economics parts right along with the adventure... I just have to point out one other thing. There are spectacular uses of chocolate pudding throughout the novel. It cracked me up. This book needs to be on school bookshelves. I can't think of anything out there like it." - The Write Path
"This book was a fast-paced, enjoyable read, and I can't wait to give it to my boys for Christmas... I would definitely recommend it to anyone looking for an entertaining, yet educational read." - Couponing with Boys Blog
"This book is a great teaching tool for tweens and teens. What a fantastic way for teens to learn about being responsible with money. There is also an entertaining action story to go along with these thoughtful lessons. You couldn't ask for a better combination than this!" - LDS Women's Book Review
"This 256-page book is sure to fully captivate even the most picky readers." - Say This Write Blog
"I just have to say how much I loved this book." - The Things I Love Blog
"First.... I just gotta say: WOW! Toby Gold and the Secret Fortune has it all: Drama, Intrigue, Empowerment of the small kid against the school bully, Friends, Enemies, Fun, Money, Mystery and Mayhem. What a great package for kids of all ages, especially Craig Everett's target audience: middle-graders, junior high and high schoolers. Adults will enjoy this book as well, I certainly did." - Monique's Musings
"Toby Gold and the Secret Fortune will delight middle grade readers and teach them something of financial literacy at the same time." - Renae's Writespot
"I honestly have to say that this book is definitely a must read. If you enjoyed the magical world of Harry Potter, then you will love the mysterious and suspenseful world of Toby Gold!" - Adventures of the Mommy Homemaker Blog
"I LOVED this book. As a homeschooler I love finding books that can entertain and teach at the same time. Toby Gold does for economics what National Treasure did for American History. I can't tell you how satisfying it was for me to walk around the grocery store with my four kids while explaining compounding interest, investment accounts, publicly traded companies, single stocks, mutual funds, and risk. I imagine I got more than a few strange looks while putting bananas and tomatoes in my basket since I was also saying things like 'diversify your investments' to my enthralled 9 year old daughter. There are not very many books at all that would encourage those kinds of questions! Toby Gold is an instant classic in my mind and belongs on everyone's book shelves. Craig Everett did a fabulous job with this book and I hope there are many more to come." - Ordinary Happily Ever After Blog
Toby Gold and the Secret Fortune
Reading Level: 10 and up
Hardcover: 256 pages
Publisher: Fiscal Press (October 18, 2012)
Language: English
ISBN-13: 978-1-936-21495-2
About Craig Everett
Craig R. Everett was born and raised in Bangor, Maine. He received his B.A. in Quantitative Economics from Tufts University, an MBA from George Mason University, and a Ph.D. in Finance from Purdue University. His twenty-plus years in private industry include four years at Accenture, eight years at Northrop Grumman, and stints at various startup ventures.
Dr. Everett currently teaches corporate and entrepreneurial finance in the MBA program at the Graziadio School of Business and Management of Pepperdine University in Malibu, California. Dr. Everett also volunteers in public schools with Junior Achievement teaching financial literacy principles. He currently serves on the curriculum review board of the National Financial Educators Council.
The author lives in Newbury Park, California with his wife and five children.
About Fiscal Press
Fiscal Press is an independent publisher of unique books, for both adults and children, related to business, economics, entrepreneurship and finance.
About Pepperdine University Graziadio School of Business and Management
Founded on the core values of integrity, stewardship, courage, and compassion, Pepperdine University's Graziadio (GRAT-ZEE-ah-DEE-oh) School of Business and Management has been developing values-centered leaders and advancing responsible business practice since 1969. Student-focused, experience-driven, and globally-oriented, the Graziadio School offers fully accredited MBA, Masters of Science, and bachelor's completion business programs. More information found at http://bschool.pepperdine.edu/newsroom/.